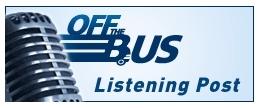 WHO: Randy Scheunemann, senior foreign policy adviser
WHAT: Press Briefing Call
WHEN: Sunday, July 13, 2008 at 3:00 p.m. ET
SUMMARY
This call uses Obama Foreign Policy Adviser Sen. Claire McCaskill's statement on Meet the Press Sunday morning that a 16 month timetable for a withdrawal from Iraq is a "goal" to spin Obama as inconsistent. Scheunemann claims there is "total confusion" among "the American people" about Obama's real positions on Iraq, citing various, supposedly contradictory statements made by the Illinois Senator over the course of the past six years.
The above audio was recorded as part of the OffTheBus Listening Post project.
HOW TO SUBSCRIBE TO THIS FEATURE
A) Receive e-mail alerts about new uploads by clicking the "Get E-mail Alerts" link at the top of this post.
B) Subscribe to the OffTheBus Listening Post podcast by plugging http://www.gcast.com/u/OffTheBus/main.xml into your RSS scraper, or the "Subscribe to Podcast" window under the "Advanced Menu" in iTunes.
C) Check the OffTheBus Listening Post Homepage for a full directory of recordings:
D) Sign up for our Listening Posts "OTBpresscasts" twitter feed.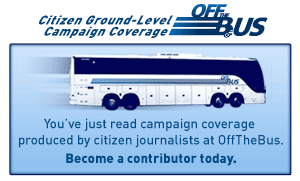 REAL LIFE. REAL NEWS. REAL VOICES.
Help us tell more of the stories that matter from voices that too often remain unheard.