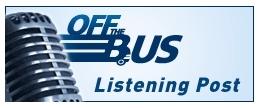 WHO: Sen. Sam Brownback, (R-KS), Rep. Heather Wilson (R-NM), Randy Scheunemann, senior foreign policy adviser, McCain 2008
WHAT: Press conference call to discuss Barack Obama's position on Iraq.
WHEN: Tuesday, July 22, 2008 at 11:30 a.m. EDT
SUMMARY
The McCain campaign responds to Senator Barack Obama's trip to the Middle East and his policy on Iraq on this call, while reiterating its talking points about the success of the surge and the importance of considering "conditions on the ground" when withdrawing troops. Rep. Wilson said Sen. McCain would like American troops to come home in less than the 16 months that Sen. Obama advocates, but only if the conditions on the ground would permit it. He argued against any timetable for withdrawal. Sen. Brownback, who previously voted against the surge, also said Sens. McCain's and Obama's differences on the surge are the best real-life example for comparing how the two candidates would handle a difficult situation as commander in chief.
The above audio was recorded as part of the OffTheBus Listening Post project.
HOW TO SUBSCRIBE TO THIS FEATURE
A) Receive e-mail alerts about new uploads by clicking the "Get E-mail Alerts" link at the top of this post.
B) Subscribe to the OffTheBus Listening Post podcast by plugging http://www.gcast.com/u/OffTheBus/main.xml into your RSS scraper, or the "Subscribe to Podcast" window under the "Advanced Menu" in iTunes.
C) Check the OffTheBus Listening Post Homepage for a full directory of recordings:
D) Sign up for our Listening Posts "OTBpresscasts" twitter feed.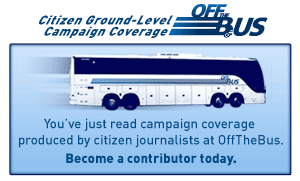 REAL LIFE. REAL NEWS. REAL VOICES.
Help us tell more of the stories that matter from voices that too often remain unheard.