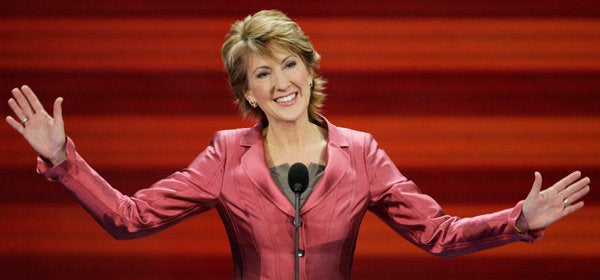 "Top McCain-Palin official Carly Fiorina is facing criticism from some within the campaign for a day of what they call 'very Biden-like' comments," CNN reports, "after the former Hewlett-Packard CEO told two separate interviewers that neither member of the Republican ticket would be capable of running a company."
Indeed, the daggers seemed out for Fiorina among the McCain aides that spoke to CNN.
A top McCain official contacted by CNN said, on condition on anonymity, "No big deal, but not how you get on the surrogate all-star team. Very Biden-like."

"This campaign source said Fiorina would be discouraged from additional media interviews.

Another top campaign adviser was far less diplomatic.

"Carly will now disappear," this source said. "Senator McCain was furious." Asked to define "disappear," this source said, adding that she would be off TV for a while - but remain at the Republican National Committee and keep her role as head of the party's joint fundraising committee with the McCain campaign.

Fiorina was booked for several TV interviews over the next few days, including one on CNN. Those interviews have been canceled.
Read the full CNN story here.
Popular in the Community