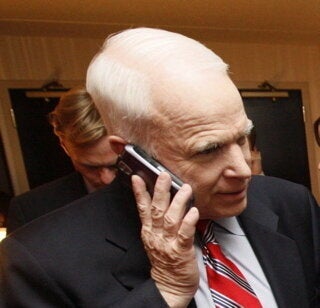 Reporting by: Holli Buck, Rusel DeMaria, Shoshana Hershkowitz, Nora McDonald, Gail Mellor, Ben Mishkin, Dan O'Donnell, Beth Palkovic, Eric Priebe, Richard Riehl, Paul Solyn, Jennifer Treuting, Ellen Emerson White, and "WiredMom."
UPDATE (7/28): Thanks to Ed Morrissey for responding to this post. While I never called Morrissey a shill (as he accused), I did erroneously suggest his affiliation with Michelle Malkin was evidence of his support for the McCain Campaign. As he pointed out at his blog, Malkin has no great love for McCain. Morrissey also made clear that the question he put to Senator Brownback on a McCain camp call was more probing than I gave him credit for. He asked Brownback about closing Guantanamo, a subject on which McCain and Brownback disagree. McCain has proposed closing Guantanamo and moving detainees to Leavenworth. Brownback opposes such a move. Morrissey's question, therefore, is actually relatively penetrating. Nevertheless, and more to the point, as Tommy Christopher writes, Morrissey is unlikely to ask anything of the McCain camp that would "challenge ideas that sound good to Republicans." I also missed an "l" in Michelle Malkin's name, which I've fixed.
No one knows the questions before they're asked... no one hears the questions before they're asked.
OffTheBus has recorded the vast majority of McCain calls since late May as part of our Listening Post project. Intrigued by Corn's suspicion, we decided to dig deeper and see if there was, in fact, any overt discrimination or favoritism being practiced by the campaign. With a handful of Special Ops volunteers, we listened to all of our banked audio of the McCain campaign media conference calls between June 17th and July 9th. We also listened to a similar but smaller sampling of Obama calls and collected information to answer our questions: Who asked what and when?
What did we find? Nothing that provides any significant evidence of favoritism by the McCain campaign.
Out of the 59 questions asked by reporters on 16 McCain calls, there was a disproportionately high number from mainstream and local news operations generally considered center or right-leaning (including well-known conservative bloggers). As a matter of fact, only two questions came from reporters for liberal outlets -- Andrea Bernstein of WNYC (6/23) and Connie Bruck of the New Yorker (6/23). Over the course of three weeks, USA Today and HotAir.com each got in five questions; CNN got in four; and Bloomberg, New York Sun, and the Tampa Tribune asked three.
A sampling of the Obama campaign showed a similar pattern. A slightly more diverse group of reporters ask questions of the Obama campaign. On a call discussing Obama's Latin American policy a reporter from a Brazilian newspaper pressed the campaign with questions. Still, most questions come from mainstream national and local news sources, including several reporters who also asked questions on the McCain calls. Over the course of 10 days, AOL News got in five questions and SPNN.net got in three. Barron's, Gannett, Detroit News, McClatchy, National Journal, and the New York Daily News each asked two.
The fact that most questions are asked by mainstream news outlets doesn't suggest foul play on the part of either of the campaigns. The trend may be lamentable from a perspective that seeks to foster diversity but it is business as usual. What's interesting -- although not necessarily revealing -- is that two people in particular manage to ask more questions than the others. Rodney Livingston of the Solar Powered News Network (SPNN) and Ed Morrissey of Hotair.com are among the most frequent contributors on the Obama and McCain calls.
Livingston's questions for Obama representatives generally come off as well-intentioned but are tangential -- even irrelevant -- to the subject of the call. On the aforementioned Latin American policy call, Livingston asked:
Ambassador, if oil were illegal it may be $1000 a barrel because of its illegality. With that being the set-up, more people in the last month have been killed in Mexico than were killed in the U.S. in 9/11. How can people be prevented from doing what they want to do within reason. And it's just not true in Columbia and South America and Central America, but it manifests itself around the global of individuals trying to prevent other individuals from doing what they want within reason.
Morrissey's questions, on the other hand, clearly exhibit his support for the McCain campaign. This isn't shocking considering Morrissey blogs for Hotair.com, the pet project of prominent right-wing blogger and frequent FOX News commentator Michelle Malkin. Sometimes Morrissey just asks for a restatement of the McCain campaign's talking points. On July 1, Senator Lindsey Graham and Lt. Col. Orson Swindle of the McCain Truth Squad criticized Wesley Clark's attack on McCain. Morrissey was one of only two questioners on the call, both conservative bloggers. He asked:
"Can you explain the significance of John McCain's experience in the Navy in terms of executive experience and leadership he's shown in the Senate, and can you address the reflexive point which is that Barack Obama doesn't have any executive experience?"
And on a call to discuss McCain's position on the Supreme Court ruling against the DC gun ban, Morrissey said:
"Senator Brownback, thank you for being on the call with us today. Slightly different topic here, you and Senator Pat Roberts sent a letter to the Senate as a whole regarding the insufficiency of Ft. Leavenworth as a replacement facility for Guantanamo Bay. Can you talk a little bit about that and what you're hoping to do with this initiative?"
In tracking the phone conferences, we also averaged the number of questions per call. The Obama team fields more questions on average than the McCain team does, but not by much. Usually three or four reporters get in questions to the McCain team whereas the Obama staff field five or six. The McCain campaign's tendency to keep calls on a tight leash does not, again, prove any nefarious attempt at censorship.
In fact, the difference seems almost negligible, especially since we don't know how many reporters or bloggers attend each call. Our Special Ops team plugged quotes and information from the calls into an advanced Google News search and identified nearly 50 reporters who likely participated in one or more calls for each campaign.
Unless the campaigns disclose the number of attendees or unless reporters raise their hands, there's no sure way to determine the number of regular attendees. What we do know is that the McCain team offers far more advance notice than Obama's campaign, which will blast out email advisories 15 minutes before a 9 a.m. call.
None of this is to say that Corn's suspicions are entirely unfounded. Reporters joining the McCain calls must identify themselves by name and outlet before joining. Anyone can dial in to the Obama campaign calls. You identify yourself on the Obama calls live, as a prelude to your question.
On the McCain calls, there are lengthy silences between the presentation sessions and question and answer sessions, sometimes as long as a full minute. There are no similar "pauses" on the Obama calls. The pauses also occur between questions.
I made three attempts to reach McCain spokesman Brian Rogers so that I could ask him why the pauses persist. The campaign repeatedly told me Rogers would call me back, but he never did.
For a full list of the questions asked on the calls we studied, read our companion piece.
Reporters who have asked questions on McCain calls:
USA TODAY, David Jackson: 7/9/08
New York Sun, Eli Lake: 7/9/08
Wall Street Journal, Laura Meckler: 7/9/08
USA Today, Kathy Kiely: 7/8/2008
Tampa Tribune, William March: 7/8/2008
FOX News, Fin Gomez: 7/8/2008
USA Today, David Jackson: 7/7/2008
US News & World Report, James Pethokoukis: 7/7/2008
New York Times, Michael Cooper: 7/7/2008
Bloomberg, Lorraine Woellert: 7/7/2008
Reuters, Jeff Mason: 7/7/2008
Washington Times, Christine Bellatoni: 7/7/2008
Hotair.com, Ed Morrissey: 7/7/2008
Investor's Business Weekly, Sean Higgins: 7/2/2008
Richmond Times-Dispatch, Tyler Whitley: 7/2/2008
Christian Science Monitor, Ariel Sabar: 7/2/2008
Hotair.com, Ed Morrissey: 7/1/2008
Townhall.com, Matt Lewis: 7/1/2008
Washington Post, Michael Shear:
Fox News, Major Garrett: 6/30/2008
CNN, Richard Greene: 6/30/2008
New York Post, Carl Campanile: 6/30/2008
Politico, Ben Smith: 6/30/2008
AOL News, Tommy Christopher: 6/27/2008
Tampa Tribume, William March: 6/27/2008
Election Night, Craig Dmitri: 6/26/2008
USA Today, David Jackson: 6/26/2008
Hotair.com, Ed Morrissey: 6/26/2008
Investors Business Weekly, Sean Higgins: 6/26/2008
New York Sun, Joseph Goldstein: 6/26/2008
Unidentified, Charlie Speering: 6/26/2008
LA Times, Bob Drogan: 6/25/2008
CNN, Frank Sesno: 6/25/2008
Detroit News, Gordon Trowbridge: 6/25/2008
CNN, Dana Bash: 6/24/2008
AP, Beth Fouhy: 6/24/2008
Tampa Tribune, William March: 6/24/2008
WNYC, Andrea Bernstein: 6/23/2008
Detroit News, David Shepardson: 6/23/2008
Albuquerque Journal, Dan Boyd: 6/23/2008
Business Week, John Kerry: 6/23/2008
The New Yorker, Connie Bruck: 6/23/2008
New York Sun, Russell Berman: 6/23/2008
LA Times, Noam Levy: 6/23/2008
Detroit Free Press, Justin Levy: 6/23/2008
Bloomberg, Lorraine Woellert: 6/23/2008
NBC, Andrea Mitchell: 6/19/2008
New York Daily News, David Saltonstall: 6/19/2008
Washington Times, Christina Bellatoni: 6/19/2008
Slate.com, John Dickerson: 6/19/2008
Confessions of a Political Junkie, Erick Erickson: 6/19/2008
USA Today, David Jackson: 6/19/2008
Hotair.com, Ed Morrissey: 6/19/2008
Bloomberg, Edwin Chen: 6/19/2008
Toledo Blade, Thomas Troy: 6/19/2008
ABC News, Jake Tapper: 6/18/2008
Associated Press, Beth Fouhy: 6/18/2008
Hotair.com, Ed Morrissey: 6/18/2008
CNN, Dana Bash: 6/18/2008
Reporters who have asked questions on Obama calls:
LA Times, Andrew Welsh-Huggins: 7/9/08
AOL News, Tommy Christopher: 7/9/08
SPNN, Rodney Livingston: 7/9/08
Gannet News Service, Chuck Raasch: 7/9/08
Columbus Dispatch, Mark Niquette: 7/9/08
AOL News, Tommy Christopher (Follow-Up): 7/9/08
AP-West Virginia, Lawrence Messina: 7/9/08
SPNN, Rodney Livingstone: 7/9/08
AOL News, Tommy Christopher: 7/8/08
NBC, Andrea Mitchell: 7/8/08
Unidentified, Jonathan Nicholson: 7/8/08
AOL News, Tommy Christopher: 7/8/08
Gannet News Service, Brian Tumulty: 7/8/08
Raw Story, Nick Juliano: 7/8/08
McClatchy Newspapers, Margaret Taleff: 7/8/08
Detroit News, Gordon Trowbridge: 7/7/08
MERS, Susan Simas: 7/7/08
Did not identify: 7/7/08
National Journal, Kirk Victor: 7/7/08
SPNN, Rodney Livingston: 7/7/08
MERS, Susan Dimas (Follow-Up): 7/7/08
AOL News, Tommy Christopher: 7/7/08
McClatchy Newspapers, Kevin Hall: 7/7/08
Barron's, Jim McTague: 7/708
Boston Globe, Rennee Law: 7/7/08
Quad City Times, Ed Tibbets: 7/7/08
AFP, Steve Collinson: 7/3/08
Salon.com, Mark Benjamin: 7/3/08
New York Times, Michael Cooper: 7/3/08
New York Daily News, Richard Sisk: 7/3/08
SPNN, Rodney Livingston: 7/2/08
Reuters, Andy Sullivan: 7/2/08
Folha de Sao Paulo, Sergio Davila: 7/2/08
The Field, Al Giordano: 7/2/08
ABC, Sunlen Miller: 7/2/08
Folha de Sao Paulo, Sergio Davila: 7/2/08
Wall Street Journal, Amy Chozick: 7/1/08
Detroit News, Gordon Trowbridge, 7/1/08
AOL News, Tommy Christopher: 7/1/08
Indianapolis Star, Bill Ruther: 7/1/08
AOL News, Tommy Christopher: 7/1/08
National Journal Magazine, Sydney Freedberg: 6/30/08
New York Daily News, Michael Goodwin: 6/30/08
WRKS FM - NY Metro Area, Nether Kahn (sp?): 6/30/08
Barron's, Jim McTague