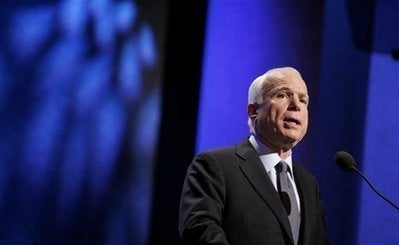 John McCain declared on Wednesday that he would suspend his run for the White House and return to Washington to help resolve the country's economic crisis. But while the candidate himself left the trail, the campaign itself is decidedly still open for business.
Across the country, McCain campaign offices are up and running, accepting volunteers, conducting phone banking, literature dropping and other GOTV activities. This held true on a local, state, and even regional level. The Huffington Post called up 15 McCain-Palin and McCain Victory Committee headquarters in various battleground states. Not one said that it was temporarily halting operations because of the supposed "suspension" in the campaign. Several, in fact, enthusiastically declared the continuation of their work. Others hadn't even heard that the candidate for whom they were devoting their time had officially stopped campaigning.
In Ohio, Brenda Lewis of the Greene County Victory Office seemed surprised there was any doubt that the office would be open. "Suspension of the campaign?" she asked out loud, before saying that her colleagues would be phone banking, going door to door, and could use some front desk help as well as assistance getting signs together. Similar level of activities were taking place in the state's Franklin County and Clark County offices.
In Ashland County, Ohio, a McCain worker named Ken confirmed, "We're still campaigning for him." He added, "I'm taking off in two hours. A Japanese couple will be watching the shop after, but they're very anglocized."
An official at McCain's Missouri headquarters welcomed more volunteer work. "It is not the suspension of the thing that is going on, it is a postponement," she said over the phone. "We are not shut down. Everything is still going on."
A man named David working at the Senator's office in Fairfax, Virginia, said, "We are not suspending any of our activity, not the phone banking nor the volunteering..."
The same held true in the state's Richmond and Charlottesville "victory centers."
Down in Florida, another swing state, work did not cease. An official in the "Southeast Regional Headquarters" acknowledged that "things are really quiet here" on Thursday. But, he added, "as a matter of fact, we have volunteers working in phone bank downstairs."
In McCain's West Regional Headquarters based in Nevada, an official named Alex said they still were accepting volunteers. In the Colorado Victory Headquarters, an aide said people were doing phone banking today and were "setting up to walk around Friday, Saturday, and Sunday." And in McCain's North Mountain Regional Headquarters, based in Minnesota, the offices, an official said, would be open until 8:30 in the evening. In fact, of the 15 offices the Huffington Post called, only one, Palm Beach in Florida did not have an official pick up the phone.
McCain, clearly, may be leaving the campaign trail - in addition to removing his television advertisement from the air - but the campaign itself rages on. Earlier in the day, Greg Sargent at Talking Points Memo reported that aides to the Senator had gone on cable news, Thursday, to deliver attacks against Barack Obama. Jake Tapper at ABC, meanwhile, reported that when McCain and Obama met President Bush in the White House today, it was the Republican who brought with him a campaign aide and the still-campaigning Democrat who brought along a Senate staffer.
Popular in the Community