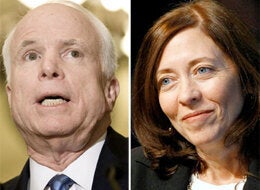 Senators John McCain and Maria Cantwell are joining forces to reinstate the Depression-era Glass-Steagal Act of 1933, which separated commercial banking from Wall Street investment banking. According to Newsweek, the two plan to announce the bipartisan McCain-Cantwell bill on Wednesday morning.
The Glass-Steagall law was repealed in 1999, allowing for commercial and investment banking to combine. Bloomberg notes that its repeal has sparked debate as to whether it "helped spawn reckless lending practices and financial speculation that led to the meltdown of credit markets last year and the $700 billion U.S. bailout of troubled banks."
So far, the idea hasn't gotten any attention from the Obama administration, which does not attribute the current crisis to the law's repeal, and dismisses the idea that reinstating it would have any impact on the financial sector. Furthermore, Newsweek's Michael Hirsh points out that renewing Glass-Steagal may be "almost akin to unscrambling an egg"-- in other words, impossible:
By the time it was formally repealed in 1999, commercial banks like Citigroup had been moving gradually into investment banking for nearly two decades. Glass-Steagall had come under continual pressure as traditional commercial banks sought to follow their old clients into the capital markets, issuing stocks and bonds instead of borrowing the old way.
McCain and Cantwell do, however, have some support. Majority Leader Steny Hoyer, for one, voted to repeal Glass-Steagall, and told reporters in Washington that "maybe that was a mistake."
The measure was first co-sponsored by five House Democrats last week, all of whom also voted to repeal the bill in 1999.
Popular in the Community