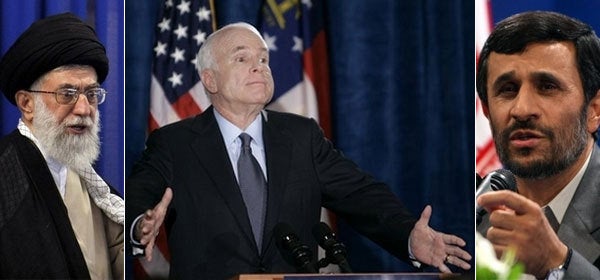 Yesterday, Time's Joe Klein noted that he could find no evidence that Sen. Barack Obama had ever specifically said he would negotiate with Iranian president Mahmoud Ahmadinejad:
On Friday, I promised to check into whether Obama had ever said that he would negotiate--specifically, by name -- with Mahmoud Ahmadinejad. Indeed, according to the crack Time Magazine research department and the Obama campaign, he never has. He did say that he would negotiate with the Iranian leadership -- but, on matters of foreign policy and Iran's nuclear program, the guy in charge is the Supreme Leader Ali Khamenei. As of today, John McCain was still accusing Obama of wanting to negotiate with Ahmadinejad. Why doesn't the McCain campaign and other assorted Republicans ever accuse Obama of wanting to negotiate with Khamenei? Well, because Khamenei isn't quite the flagrant anti-Semite Ahmadinejad is...and, as we keep hearing, Obama has a Jewish problem.
Later in the day, Klein confronted McCain with this question at a press conference. For a foreign policy "expert," McCain clearly has a pattern of getting the basic facts wrong. McCain insisted that ultimate political authority in Iran rests with Ahmadinejad -- even mocking Klein when he challenged him on it. In fact, according to the CIA's World Factbook, ultimate political authority in Iran rests with Supreme Leader Ali Khamenei, not the president.
KLEIN: I've done some research, and um -

MCCAIN: I have too.

KLEIN: Also checked, also checked with the Obama campaign and he never, he's never sai -- mentioned Ahmadinejad directly by name. He did say he would negotiate with the leaders, but as you know - Ayatollah,

MCCAIN: (Laughing) Ahmadinejad is, was the leader.

KLEIN: But if -

MCCAIN: Maybe I'm mistaken.

KLEIN: Maybe you are, because -

MCCAIN: Maybe. I don't think so though.

KLEIN: The Supreme, you know, according to most diplomatic experts, the Supreme Leader Ali Khamenei is the guy who's in charge of Iranian foreign policy and also in charge of the nuclear program, but you never mention him. Do you, you know, um, why do you always keep talking about Ahmadinejad since he doesn't have power in that, in that realm?

MCCAIN: Oh I thin-Again, I respectfully disagree. When he's the person that comes to the United Nations and declares his country's policy is the extermination of the state of Israel, quote, in his words, wipe them off of the map, then I know that he is speaking for the Iranian government and articulating their policy and he was elected and is running for reelection as the leader of that country. Yes sir, go ahead.

NEW REPORTER: One more quest-

MCCAIN: I mean, the fact is he's the acknowledged leader of that country and you may disagree, but that's a uh, that's your right to do so, but I think if you asked any average American who the leader of Iran is, I think they'd know. Go ahead. Or anyone who's well-versed in the issue.
Ilan Goldenberg of the National Security Network notes:
Let's be clear: Iran has a very complex system of government with varying institutions, but at the top of it sits Supreme Leader Ayatollah Ali Khamenei, who essentially has only accountable to the Council of Guardians made up of clerics, many of whom are appointed by Khamenei. So, Ahmadinejad is not the leader. And as the Council on Foreign Relations explains, especially in the area of foreign policy, Ahmadinejad has very little influence.

On top of that as Klein points out, the President's job is to educate the public on questions of policy. So if the "average American" thinks that Ahmadinejad is the ultimate leader of Iran, it's up to the President to dissuade them of this notion - not reinforce it. Back in 2002 more then half of Americans thought Saddam was responsible for 9/11 and President Bush did nothing to disprove this assumption (In fact, while never directly claiming that Saddam was responsible for 9/11 the Administration did everything it could to reinforce the notion). That doesn't mean our policy should be based on those false assumptions.
Popular in the Community