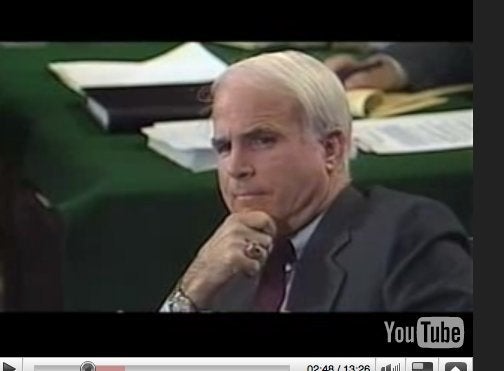 Tasked with defending John McCain's past involvement in the "Keating Five" scandal, the Senator's legal representative tried to dismiss the entire significance of what occurred some two decades ago.
Speaking to reporters on a conference call, John Dowd, a partner at the powerhouse lobbying/consulting firm Akin Gump Strauss Hauer & Feld LLP, painted the Keating investigation as a "political smear job" led by Democrats who needed to make the issue a bipartisan embarrassment rather than own it themselves.
"He was the only Republican in that hearing and so it had some political overtones given that Democrats were in deep trouble," said Dowd. "John was the only senator who essentially threw Charles Keating out of his office and he did that before there were any allegations of impropriety."
As John Aravosis and Ben Smith both noted, in making such an assertion, Dowd is contradicting none other than McCain himself. The Senator has previously called the Keating scandal "the worst moment in my life," implicitly acknowledging that while his activities may not have been criminal, they were unacceptable.
"The appearance of it was wrong," McCain declared in retrospect. "It's a wrong appearance when a group of senators appear in a meeting with a group of regulators, because it conveys the impression of undue and improper influence. And it was the wrong thing to do."
Dowd, by contrast, suggested on Monday that McCain's role in the affair was entirely innocent. He said McCain was not only within bounds for reimbursing Keating for airplane rides that went unreported, but that the Senator took an unprecedented step towards ethical purity in making those payments. As for his relationship with Keating, Dowd insisted that McCain knew him as a constituent primarily, and ended their connection when it became clear that political favors were being sought.
"I thought his conduct was perfectly appropriate," he even declared at one point.
Dowd is, it should be noted, an interesting voice for the McCain camp to turn to. He was McCain's lawyer during the Keating scandal, and he supported the Arizona Republican when he ran for president in 2000. But earlier this cycle, the longtime defense attorney expressed disappointment with the Senator, saying he couldn't even recognize his longtime friend.
"I am very sorry to see what's happened to John," Dowd said. "I don't think his campaign is being well run. It's been over-managed. He blew through $8 1/2 million. It's a difficult thing to leave a friend and go to another friend. But we lost the John McCain I knew."
As Dowd played the good soldier on Monday, the Obama campaign put out a 13-minute documentary detailing the history of McCain's involvement in the affair. The film details how, at Keating's request, McCain wrote several letters and supported a bill to push back a direct investment bill. Dowd painted his as a regrettable mistake done on behalf of a constituent. But the Obama campaign argues that it provides a direct window into how McCain would handle the current economic crisis.
"The Keating scandal is eerily similar to today's credit crisis," read the campaign's new website, KeatingEconomics.com, "where a lack of regulation and cozy relationships between the financial industry and Congress has allowed banks to make risky loans and profit by bending the rules. And in both cases, John McCain's judgment and values have placed him on the wrong side of history."
Popular in the Community