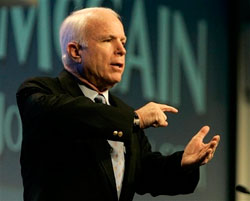 During Sunday night's Republican presidential debate, Senator John McCain, R-AZ, offered up a sharp, red-meat reprimand of Democratic frontrunner, Sen. Hillary Clinton, for her proposal of a $1 million memorial at the site of the 1969 Woodstock festival.
"Now, my friends, I wasn't there. I'm sure it was a cultural and pharmaceutical event," McCain said in his typical deadpanned delivery. "I was tied up at the time... But the fact is, my friends, no one can be president of the United States that supports projects such as these."
The line was clear, poignant and politically advantageous, reminding voters of McCain's service in Vietnam - where he was a prisoner of war - and reinforcing his image as an anti-pork crusader.
And yet, less than two years ago, it was McCain who was on the receiving end of rebuke over a pet project deemed overly parochial and "porkish." In February 2006, McCain teamed up with fellow Arizona Sen. Jon Kyl on a bill to direct $10 million over five years to help create the William H. Rehnquist Center at the University of Arizona Law School.
The bill never passed, but Democrats and even some government watchdog groups perceived McCain's project much the same way the Woodstock memorial was greeted among the Republican presidential hopefuls.
"It was an earmark in training," Keith Ashdown, vice president of Taxpayers for Common Sense, recalled for the Huffington Post. "This is how bad projects get started... The Senator has generally been good on these issues. But if you want to criticize, you should be ready to take it on the chin."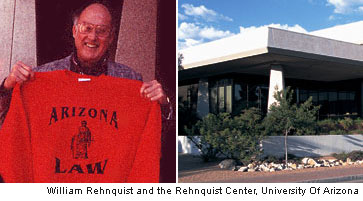 McCain's campaign did not return calls requesting comment. The senator, often to the scorn of his fellow Republicans, has devoted much of his career towards tackling the preponderance of money in politics. In 2002, he co-authored comprehensive campaign finance legislation with Sen. Russ Feingold, D-WI. More recently, he has pushed to rein in the upsurge of reckless congressional spending. And while, four years before requesting money for the Rehnquist Center, McCain successfully secured $14.3 million for the Luke Air Force base in Arizona, he has more often than not been a vehement critic of congressional pet projects and has shunned the secretive process of earmarks.
"As federal spending goes, the more transparency the better and McCain is way ahead of the game at least by putting it out there as a bill rather than an earmark," Leslie Paige, media director for Citizens Against Government Waste, told the Huffington Post. "Up until this year [when new congressional ethics rules were passed] a $1 million earmark for Woodstock would have gone through and nobody would have seen it."
Despite McCain's history on the issue, not everyone was willing to give him a free pass to criticize Clinton. After the debate, Democrats quickly jumped on the Arizonan for what they deemed to be a bit of campaign-induced political hypocrisy.
"It just makes it clear that John McCain's principles only matter as long as they don't get in the way of his political interests" said Luis Miranda, deputy communications director for the Democratic National Committee.