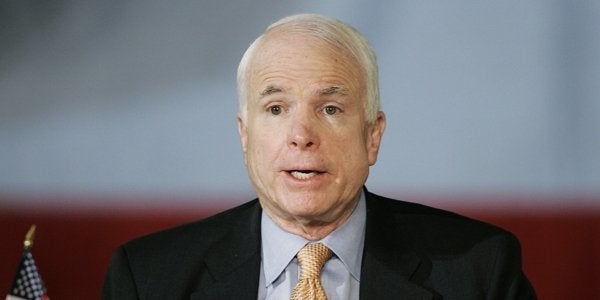 Speaking about Iraq at a townhall event on Thursday evening in Greensdale, Wisconsin, Sen. John McCain declared, "I can tell you that it is succeeding. I can look you in the eye and tell you it's succeeding. We have drawn down to pre-surge levels. Basra, Mosul and now Sadr city are quiet and it's long and it's hard and it's tough and there will be setbacks..." (Video is below.)
Moreover, McCain's claim that Mosul is "quiet" was disproved earlier today in grim fashion. Three suicide bombings -- two in Mosul and another in a surrounding town -- left 30 Iraqis dead and more than two dozen injured, according to press reports.
Clearly, McCain's various congressional trips to Iraq haven't made him infallible on the issue.
Here's video of McCain from this evening:
Popular in the Community