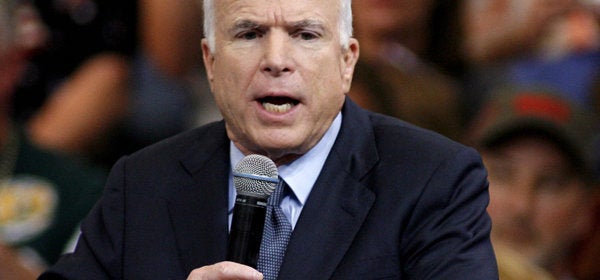 John McCain was booed by his own supporters during a rally on Friday after he described Barack Obama as a "decent person and a person that you do not have to be scared of as president of the United States."
McCain was responding to a town hall attendee who claimed he was concerned about raising a child under a president who "cohorts with domestic terrorists such as [Bill] Ayers." Despite the fact that McCain and his campaign have repeatedly used Ayers to hammer Obama in recent days, the Arizona Senator tried to calm the man.
"[Senator Obama] is a decent person and a person that you do not have to be scared about as President of the United States," he said, before adding: "If I didn't think I would be one heck of a better president I wouldn't be running."
The crowd groaned with disapproval.
Later, McCain was again pressed about Obama's "other-ness" and again he refused to play ball. "I don't trust Obama," a woman said. "I have read about him. He's an Arab."
"No, ma'am," McCain said several times, shaking his head in disagreement. "He's a decent, family man, [a] citizen that I just happen to have disagreements with on fundamental issues and that's what this campaign is all about."
At another point, McCain declared, "If you want a fight, we will fight. But we will be respectful. I admire Sen. Obama and his accomplishments." Supporters booed then also. "I don't mean that has to reduce your ferocity," McCain responded. "I just mean to say you have to be respectful."
The episode reflected the intensity of the anger that many McCain-Palin supporters have for Obama -- anger that was stoked, in large part, by McCain itself. It also underscored just how difficult a situation McCain has walked himself into. Hours before he attempted to calm nerves, the Senator's campaign sent out a statement to reporters defending the remarks of its crowd members.
"Barack Obama's attacks on Americans who support John McCain reveal far more about him than they do about John McCain. It is clear that Barack Obama just doesn't understand regular people and the issues they care about," read a statement from spokesman Brian Rogers. "Even worse, he attacks anyone who dares to question his readiness to serve as their commander in chief in chief. Raising legitimate questions about record, character and judgment are a vital part of the Democratic process, and Barack Obama's effort to silence and shame those who seek answers should make everyone wonder exactly what he is hiding."
One Democratic activist was eager to take advantage of McCain's more conciliatory remarks on Friday, quickly posting a video described as McCain's "new attack ad":
Earlier on Friday, Barack Obama had criticized John McCain recent campaign appearance saying it was "easy to rile up a crowd by stoking anger and division."
"I think that folks are looking for something different," he said. "But that's not what we need right now in the United States. The times are too serious."
In responding to this charge, Rogers attempted to deliberate simplify and obscure some of the rhetoric that has recently come from McCain supporters. Videos taken of people heading into McCain-Palin rallies have shown individuals who label Barack Obama as a terrorist, a communist and a threat to the well-being of the country. At a town hall meeting in Wisconsin on Thursday, several attendees urged the Republican nominee to attack his opponent on the Ayers issue and Reverend Jeremiah Wright, who McCain himself has said should be off limits.
The rabid nature of the scene has startled longtime political observers and even former associates of McCain himself.
John Weaver, the Senator's former top strategist, has said McCain is making a tactical mistake by letting abusive hecklers have their voices heard during his forums. David Gergen, a longtime Washington strategist, has warned that the rhetoric from these attendees could "lead to some violence."
Veteran Republican Congressman Ray LaHood criticized Sarah Palin in particular, saying her rhetoric did not "befit the office she's running for."
AFL-CIO President John Sweeney denounced the recent campaign stops as dangerous and expressed alarm that the top of the Republican ticket would not protest the crowd's language.
"Sen. John McCain, Gov. Sarah Palin and the leadership of the Republican party have a fundamental moral responsibility to denounce the violent rhetoric that has pervaded recent McCain and Palin political rallies. When rally attendees shout out such attacks as "terrorist" or "kill him" about Sen. Barack Obama, when they are cheered on by crowds incited by McCain-Palin rhetoric -- it is chilling that McCain and Palin do nothing to object."
Veteran reporter Dan Balz has opined that "McCain's tactics are over the line, with no restraint in sight, and threaten to provoke reactions among partisans on both sides that will continue to escalate."
And Frank Schaeffer penned a solemn and critical column (first published in the Baltimore Sun) personally addressed to McCain himself: "If your campaign does not stop equating Sen. Barack Obama with terrorism, questioning his patriotism and portraying Mr. Obama as "not one of us," I accuse you of deliberately feeding the most unhinged elements of our society the red meat of hate, and therefore of potentially instigating violence."
McCain, through Rogers' statement, is gambling that the voices of caution don't matter as much as the sentiments of the people. But he is also implicitly arguing that even the vilest rhetoric sent Obama's way is fair game when chalked up to concerns about the Illinois Democrat's past associations and judgments. And he's acknowledging that he won't lift a finger to dissuade the raging tempers.

Popular in the Community