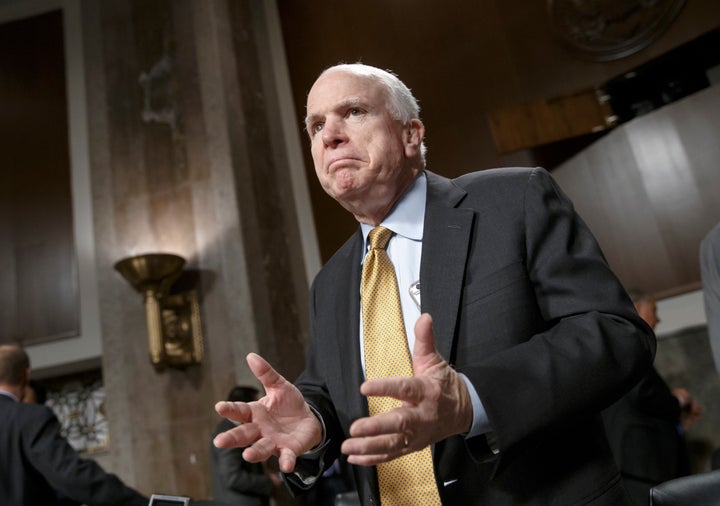 Blasting President Barack Obama's "feckless" foreign policy, Sen. John McCain (R-Ariz.) says the president should leave an empty seat at his State of the Union address for "250,000 Syrians that have been slaughtered ... thanks to his failed policy."
The jab, made on Tuesday's episode of "Morning Joe," was apparently the senator's way of demanding that Obama discuss terrorism, the Middle East and worldwide confidence in America's armies, according to an NBC Universal press release.
Obama has come under criticism from the GOP for his refusal to take military action against Syrian President Bashar Assad's regime or to arm part of Assad's opposition, the Free Syrian Army. Critics say this has emboldened our enemies in the Middle East.
Speaking to "Morning Joe" host Mika Brzezinski, McCain acknowledged that Michelle Obama was saving a chair at Tuesday night's address for victims of gun violence in America. It's a symbol for "the rest of us to speak for them; to tell their stories; to honor their memory," a White House official told the Washington Examiner.
McCain had another suggestion.
"I'd like to see another empty chair for the 250,000 Syrians that have been slaughtered, and barrel bombed, and starved to death, and tortured by Bashar Assad thanks to [Obama's] failed policy, because of a feckless policy of leading from behind, deciding not to arm the Free Syrian Army over the recommendations of his national security team, including Hillary Clinton," he said.
That's when the floodgates began to open, as Republican presidential candidate Sen. Ted Cruz (Texas) gave his empty chair to all those "unborn children" following Roe v. Wade:
Now we're waiting for Ben Carson to ask for an empty seat for all the people he says he's fought.
The #EmptySeat hashtag, though, appears to be controlled by real causes, such as domestic violence. Dozens of victims took to Twitter to ask for a seat for victims of violence at home:
Popular in the Community