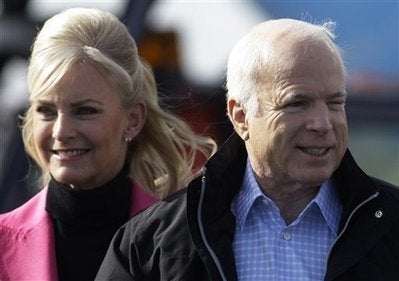 The New Republic published an explosive story Saturday evening detailing how John McCain, in all likelihood, leaked information to investigators of the Keating Five scandal that was designed to help his image at the expense of the other four Senators involved.
If the allegation is true -- and TNR makes a healthy case as to its veracity -- it would mean that McCain violated Senate rules and could have been expelled from that body.
"All five senators -- including McCain -- had testified under oath and under the U.S. penal code that the leaks did not come from their camps," Sahil Mahtani reports. "The leaks were also prohibited by rules of the Senate Ethics Committee; according to the rules of the Senate, anyone caught leaking such information could face expulsion from the body."
But this is not be the only instance in which McCain defied the rules of the Senate when seeking to absolve himself of any wronging in the Keating affair. Public records in Arizona reveal that the Senator was also dishonest in discussing the extent of financial transactions he and his family had with the disgraced Savings and Loans chief.
In a three-and-a-half hour interview with investigators on February 13, 1990, McCain told the Ethics Committee that "other than the Fountain Square project [a property deal in which Keating and McCain's family were jointly invested] there were no other financial dealings between him or his family and ACC [American Continental Corporation]."
This, it seems, was not true.
In 1983, the company owned by the McCain family -- specifically his wife Cindy and father-in-law Jim Hensley -- bought a property in Mesa, Arizona, owned by ACC, only to sell it back two months later.
According to property records (pdf), on May 26 of that year, Keating's ACC "conveyed" Lot 188 of Laguna Shores Unit 8 to the Hensley/McCain's Western Leasing Company for the price of $75,000. On July 21, 1983, Western Leasing Company sold the lot right back to ACC for the same exact price.
There is no explanation on the records as to why the unusual property exchange took place. McCain did not report it on his personal financial disclosure form that year, which required senators to list "any interest in property held during calendar year 1983 in a trade or business or for investment or the production of income, which had a fair market value exceeding $1,000 as of the end of the year." Though, a Democratic lawyer familiar with ethics disclosures notes that if he didn't "have a personal ownership interest in the property it would not have to be reported." McCain did list his shares in Western Leasing.
Keating would go on to build a residence on that lot just two months after purchasing it back from Western Leasing. Theoretically, he could have benefited from having that property off the books for the two-month period it was owned by Western Leasing. Though, more than anything else, the transaction demonstrates just how close he and the McCain/Hensleys were.
Taken as a whole, the revelation presents another curious chapter in McCain's conduct during the Keating affair. The Senator, along with four of his colleagues, was accused in 1987 of improperly intervening on behalf of Keating, who was being targeted at the time by regulators. McCain had a close relationship with the Savings and Loan chair, having taken free flights (which he later reimbursed) and received $166,000 in campaign contributions from 1982 through 1986. The two had exchanged notes of friendship as well. After McCain wrote a note apologizing to Keating for listing him as a member of his campaign finance committee - a snub of a post for the long-time donor - Keating replied by writing: "John, don't be silly. You can call me anything...I'm yours until death do us part."
By and large, however, McCain's biography has been as helped as hindered by the whole affair. While he was reprimanded for showing "poor judgment" by the ethics committee (though cleared of legal impropriety), the Arizona Republican used the incident to launch a career as a good-government crusader.
The image makeover has been challenged at various times during this campaign. Revelations that McCain may have misled investigators about the extent of his interactions with Keating as well as reports of his allies leaking favorable information to the press could provide further fodder for those critics.
The McCain campaign did not immediately return request for comment.
Popular in the Community