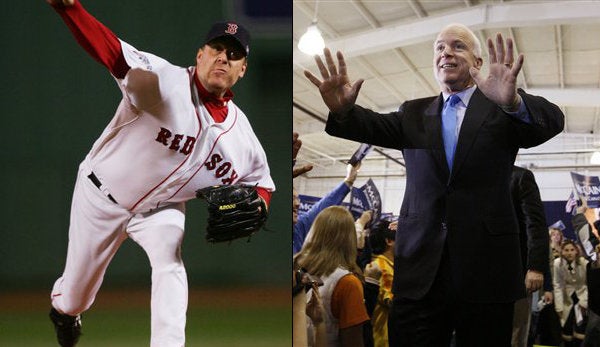 One week after Red Sox pitcher Curt Schilling "officially" endorsed Sen. John McCain for president, the Beantown hero received a softball of his own: a hefty donation from the McCain campaign to his and his wife's charity.
On December 6, 2007, Schilling, relatively fresh off of his second World Series title with Boston, hit the campaign trail on McCain's behalf, making an appearance at the Derryfield School in New Hampshire.
"I understand at the end of the day that he'll do what's right for us," Schilling said, appearing next to the Arizona senator. "I think this election is going to come down to something that's been absent for far too long and that's character and integrity."
Seven days later, according to campaign finance filings, the McCain campaign returned the favor by writing a check for $4,600 to the Curt & Shonda Schilling Foundation, which is dedicated to eradicating melanoma. Both McCain and Shonda Schilling are skin cancer survivors.
The donation was legal. At the time, McCain's campaign was in deep debt, with the possibility of a New Hampshire victory still considered unlikely. After the endorsements, Schilling kept an active presence on the trail, even shooting an advertisement on McCain's behalf.
Schilling's personal blog, moreover, became a filter for pro-McCain (and pro-Barack Obama) postings. One such exuberant entry came after McCain's victory in South Carolina. "Anyone wanting to toss out character issues or past mistakes that have to do with Senator McCain please don't do so blindly," Schilling wrote, "because I promise you your candidate has as much, likely more, dirty laundry than he has or ever will."
The McCain campaign would not return request for comment. But campaign finance watchdogs see this as a bizarre if not questionable use of campaign dollars.
"In general it is inappropriate for members to be giving away campaign dollars for charities. It's not why people made their contributions," said Melanie Sloan, executive director of Citizens for Responsibility and Ethics in Washington. "If John McCain personally believed in Curt Schilling's charity it is one thing. It is another to ask people to give money to his candidacy and have it go to Curt Schilling's charity. The only way that makes sense is that he is paying for the endorsement, although they are apparently long time friends."
Schilling and McCain do have a lengthy history. Schilling befriended the maverick Republican when he played for the Arizona Diamondbacks in the early 2000s. On June 9, 2005, McCain introduced resolution S. 167, "recognizing the importance of sun safety." And in October 2003, McCain presented the Schillings with the Excellence in Cancer Awareness Award during a luncheon on Capitol Hill. Since then, they've remained politically close, with Schilling touting McCain as presidential material as far back as January 2007.
Schilling has inserted himself into national politics before. Following his World Series winning performance in 2004, the pitcher threw his weight behind George Bush's presidential bid in 2004, much to the consternation of his Boston fans who had their own senator, John Kerry, in the race.
Popular in the Community