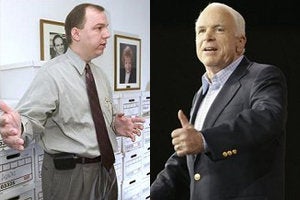 John McCain's campaign has directed $175,000 to the firm of a Republican operative accused of massive voter registration fraud in several states.
According to campaign finance records, a joint committee of the McCain-Palin campaign, the RNC and the the California Republican Party, made a $175,000 payment to the group Lincoln Strategy in June for purposes of "registering voters." The managing partner of that firm is Nathan Sproul, a renowned GOP operative who has been investigated on multiple occasions for suppressing Democratic voter turnout, throwing away registration forms and even spearheading efforts to get Ralph Nader on ballots to hinder the Democratic ticket.
In a letter to the Justice Department last October, House Judiciary Committee Chairman John Conyers said that that Sproul's alleged activities "clearly suppress votes and violate the law."
That Sproul would come under the employment umbrella of the McCain campaign -- the Republican National Committee has also separately paid Lincoln Strategy at least $37,000 for voter registration efforts this cycle -- is not terribly surprising. Sproul, who has donated nearly $30,000 to McCain's campaign, has been in the good graces of GOP officials for the past decade despite charges of ethical and potentially legal wrongdoing.
But his involvement with the Republican Party's voter registration efforts has the potential to create a political and public relations headache at a time when McCain can ill-afford one. For weeks the Arizona Republican and his allies have been seeking to tie Barack Obama to the community organization ACORN, which they have accused of potentially committing massive voter registration fraud. Sproul's contract with the GOP ticket -- in addition to news of Republican officials attempting to suppress Democratic turnout in California -- raises, for some, questions about McCain's own efforts.
"It should certainly take away from McCain's argument," said Bob Grossfeld, a progressive political consultant based in Arizona who has followed Sproul's career. "Without knowing anything of what is going on with ACORN, there is a clear history with Mr. Sproul either going over the line or sure as hell kicking dirt on it, and doing it for profit and usually fairly substantive profit."
As Republican Congressman Chris Cannon summarized during a joint hearing for the subcommittee on commercial and administrative law back in May 2008: "The difference between ACORN and Sproul is that ACORN doesn't throw away or change registration documents after they have been filled out."
Indeed, Sproul's history is filled with allegations of political misdeeds. During the 2004 election, Sproul & Associates (the former name of Lincoln Strategy) was accused of attempting to destroy forms collected by Democratic voters in Nevada. That same year in Oregon, Sproul & Associates allegedly instructed canvassers to only accept Republican registration forms in addition to destroying those turned in by Democrats.
In Minnesota, meanwhile, Sproul's firm was accused of actually firing workers who brought back Democratic registration forms, while other canvassers were allegedly paid "$13 an hour, with the $3 bonus for every Bush, undecided or Ralph Nader voter registration." Similar problems related to Sproul & Associates popped up in Pennsylvania and West Virginia.
Canvassers were told to act as if they were nonpartisan, to hide that they were working for the RNC, especially if approached by the media... In letters the firm sent to the libraries, Sproul misrepresented itself as America Votes -- a left-leaning national voter registration group not affiliated with Sproul -- but said that it was interested in registering "all those who wish to register to vote." Shortly after Sproul canvassers began working the libraries, though, patrons began complaining that the canvassers were being especially inquisitive about their political leanings, and some were pushing people to register as Republicans.
Sproul has denied those charges, claiming often that his registration efforts were bipartisan and that any suggestion otherwise was nothing more than the testimony of disgruntled former employees. He did not return a request for comment for this article.
But there has been a wide array of public complaint over the scope and nefariousness of his activities. Sens. Patrick Leahy and Ted Kennedy sent a letter to Attorney General John Ashcroft in 2004 asking that the Justice Department "launch an immediate investigation into the activities of Mr. Sproul and his firm." Three years later, members of Congress still weren't satisfied. Rep. Conyers complained in an Oct. 2007 letter that the Justice Department was not closely scrutinizing Sproul's efforts. "The alleged misconduct described by many witnesses," he wrote, "clearly suppress[es] votes and violate[s] the law."
Indeed, those who have followed Sproul's rise in Republican circles argue that the pattern of behavior is too hard to dismiss as anything other than ethically-blurry, brass knuckle tactics.
"The biggest single thing is that he is a true believer," said Grossfeld. "He might take this as a compliment, but he is as committed to the worldview and the neocon approach to life as any operative I have ever run across. He is absolutely devoted to whatever that ideology is and as a byproduct of that he will look for every opportunity he can, I believe to further his or his client's agenda."
Popular in the Community