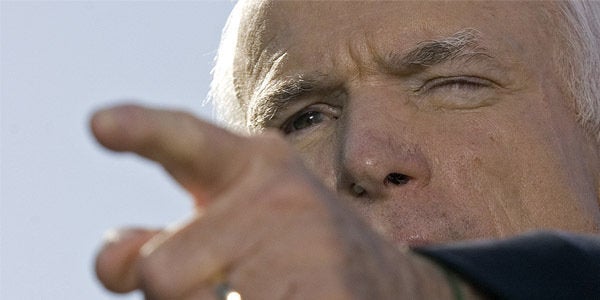 The media has been abuzz over speculation that John McCain will accept public financing in the general election. The attention has overshadowed a new fund structure that will allow the McCain camp to collect significantly more money than the individual limits placed by the McCain-Feingold campaign finance reform bill.
Campaign manager Rick Davis released the details of the "McCain Victory 08" fund on Friday. He said the entity is a joint committee, combining the McCain campaign, the Republican National Committee and four key states under a "hybrid legal structure."

The idea is to tap donors for more than the $2,300 limit set by campaign finance laws. Under legislation pushed by McCain in his role as a senator from Arizona, an individual can donate a maximum of $2,300 to a presidential primary campaign and the same amount to the general election campaign. Although McCain received the number of delegates necessary to secure the nomination in March, he will not be the party's official nominee until the convention in September--so he is still running a primary campaign.

The new structure allows up to $70,000 in individual contributions by channeling the money into different McCain-centric funds. The first $2,300 of that would go to McCain's primary campaign. The Republican National Committee would receive $28,500 of the donation. The remaining funds would be divided equally, up to $10,000 a piece, among four states the campaign has designated as battlegrounds for November: Wisconsin, Minnesota, Colorado and New Mexico.
This joint fundraising committee, called McCain Victory '08 Fund, will allow your campaign to accept contributions as large as $70,000, according to the New York Times - an amount that is far in excess of contribution limits for candidates and political parties put in place by your own campaign finance law, the Bipartisan Campaign Reform Act of 2002, also known as McCain-Feingold. Your willingness to evade the spirit of McCain-Feingold sets a poor precedent for whomever the Democratic Party nominates as your general election opponent. It also sends a signal that your campaign is less serious about the importance of participating in the public financing system in the general. Indeed, even if you were to participate, you and your campaign are exploiting a loophole and will be still be courting wealthy donors who could donate tens of thousands to the McCain Victory '08 Fund.

You and your campaign will describe this activity as legally sound. But that does not make it right.
Calling all HuffPost superfans!
Sign up for membership to become a founding member and help shape HuffPost's next chapter