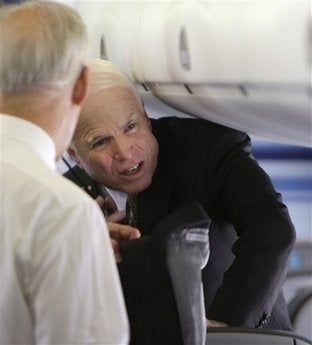 Eight years ago, Sen. John McCain's run for the presidency was derailed under the heavy weight of smear campaigns and attack politics. A key agent in that effort was Sam Wyly, a Texas investor and major George W. Bush supporter who, with his brother, launched a $2.5 million advertising campaign attacking McCain's environmental record.
Wyly's work, according to the Center for Public Integrity, represented the "very first ad" launched by a 527 -- the oft-maligned political groups that came about due to a loophole in campaign finance laws. Created in secrecy (under the name "Republicans for Clean Air") and on the eve of the crucial Super Tuesday primaries, it was seen as a contributor to McCain's ultimate defeat in 2000.
Today, McCain and the Wylys are once again intertwined, only this time in collaboration. On Monday, McCain's campaign held a fundraiser in Dallas for "Texas Aviators" -- younger contributors who support the GOP nominee. The co-chairman of that group is Andrew Wyly, the son of Sam.
It is a sharp turn for Andrew. In the 2000 campaign, he was credited by his father for "the promotions against Mr. McCain," even though at the time he was a student at Dennison University. Eight years later, he is raising at least $10,000 on McCain's behalf.
For McCain, perhaps, the association is a bit more bizarre. Following the ad blitz in 2000, the Senator petitioned the FCC to rule that the Republicans for Clean Air ads were "actually sponsored by Sam and Andrew Wyly, supporters of Gov. George W. Bush," and as such should be pulled unless relabeled.
Soon thereafter, McCain returned to Congress and introduced legislation that required 527s report all their contributors and expenditures on a monthly or quarterly basis. His measure passed in the Senate in June 2000 and three weeks later made it through the House of Representatives with overwhelming support. Soon after, it was signed into law, becoming the first campaign finance legislation passed in 21 years.
Eight years later, one of the individuals who helped foil McCain's campaign (and inspired his legislative efforts) is contributing to his run for the White House. Calls to Wyly went unreturned - though campaign finance records show that he and his father both listed the same address on their donation forms.
Calling all HuffPost superfans!
Sign up for membership to become a founding member and help shape HuffPost's next chapter