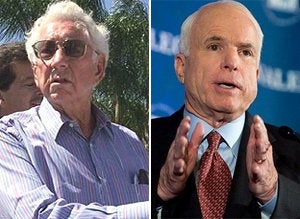 The co-host of a recent top-dollar fundraiser for Sen. John McCain oversaw the payment of roughly $1.7 million to a Colombian paramilitary group that is today designated a terrorist organization by the United States.
Carl H. Lindner Jr., the billionaire Cincinnati businessman, was CEO of Chiquita Brands International from 1984 to 2001, and remained on the company's board of directors until May 2002. Beginning under his tenure, Chiquita executives paid hundreds of thousands of dollars to the United Self-Defense Forces of Colombia (known by the Spanish acronym AUC), which is described by George Washington University's National Security Archive as an "illegal right-wing anti-guerrilla group tied to many of the country's most notorious civilian massacres."
Following a Justice Department indictment last year, Chiquita admitted to illegally funding the paramilitaries and agreed to pay a $25 million fine. Chiquita's payments to the AUC began in 1997 and lasted seven years; roughly half of the funds came after the group was designated a Foreign Terrorist Organization by the U.S. State Department in 2001.
According to the Justice Department, the payments "were reviewed and approved by senior executives" of Chiquita, who knew by no later than September 2000 "that the AUC was a violent, paramilitary organization."
Late last week, Lindner co-hosted a $25,000-per-person fundraiser for McCain and the Republican Party in the wealthy Indian Hills neighborhood of Cincinnati, Ohio. The event raised about $2 million; Lindner also serves on McCain's Ohio Victory Team.
While Lindner was CEO of Chiquita, the company began sending money to the AUC through its shipping subsidiary Banadex. A report by the Organization of American States states that Banadex also engaged in arms trafficking, helping to deliver 3,000 Nicaraguan AK-47 rifles and millions of rounds of ammunition to the AUC in 2001. According to federal prosecutors, when company officials realized the arrangement was illegal, they switched to making the payments in cash.
"We believe they saved people's lives," a Chiquita spokesman told Time magazine last year, alleging that the company was simply trying to avoid violence against their employees.
Chiquita's funding of violent paramilitaries does not end with the right-wing AUC. The fruit giant "had been making similar payments to the leftist FARC and ELN guerrillas" since 1989, also on Lindner's watch. Those payments ended in 1997 as "control of the company's banana-growing area shifted" to the AUC, according to the Associated Press.
McCain, who is currently visiting Colombia to promote free trade, has described FARC as "one of the worst" terrorist groups and accused his opponent, Sen. Barack Obama, of being unwilling to support Colombian President Uribe's anti-terrorist efforts.
That the Arizona Republican is raising funds from a man whose company once paid that very same terrorist group seems likely to sully his charge.
Aides to the Senator did not return request for comment, though they have repeatedly argued that the campaign does not have direct connections to companies represented by such fundraisers or advisers and, as such, should not be held accountable for their actions or presumed to be persuaded by their interests.
However, in the past, McCain has done favors on Lindner's behalf. Last May, the Washington Post reported that in the late 1990s, McCain "promoted a deal in Arizona's Tonto National Forest involving property part-owned by Great American Life Insurance, a company run by billionaire Carl H. Lindner Jr., a prolific contributor to national political parties and presidential candidates."
Moreover, McCain's chief political adviser, Charlie Black, lobbied for Chiquita on two separate occasions in 2001. According to records, Black was paid $80,000 to work on foreign trade issues.
Black, as the Huffington Post reported on Tuesday, has represented other controversial clients with operations in Colombia. From 2001 through 2007, his work brought his firm more than $1.6 million in lobbying fees from Occidental Petroleum, a company whose security arm was accused of bombing a Colombian village and killing 17 civilians in 1998.
Popular in the Community