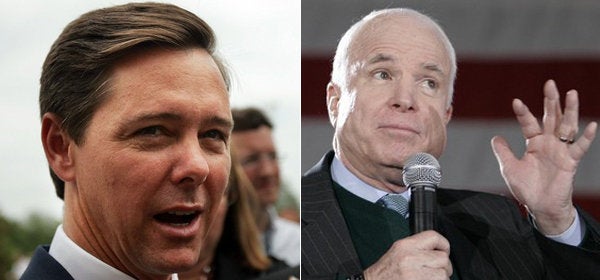 The political world, and the Democratic Party in particular, is in a buzz over news that John McCain will attend a fundraiser hosted by Ralph Reed, the former head of the Christian Coalition who fell from grace during the Jack Abramoff scandal.
'The Senator has come full circle,' goes the most common refrain -- a reference to both McCain's claim to scorn Washington's seedy lobbyists culture and the fact that his investigation into Abramoff effectively derailed Reed's political ambitions.
But there is, in fact, a far more curious and potentially damaging tie that connects the Arizona Republican and the religious right figure.
One of the projects on which Reed aided Abramoff was an effort financed by the Mississippi Choctaws to shut down other casino games in Alabama. The issue lingered well into 2002. And Abramoff's reach extended all the way into the state's gubernatorial election, when he wrote an aide about the legislative favors the Choctaws wanted in return for their support of then-candidate Bob Riley.
The latter revelation McCain covered up. That email, which the Senator had access to during his investigation, never made it into his Abramoff report. McCain claimed it was not his prerogative as chair of the Senate Indian Affairs Committee to "involve" himself "in the ethics process [of members of Congress]." And others felt the same way. The report passed the committee by a bipartisan 13-0 vote.
But the implications of McCain's decision were far reaching. Riley was able to beat the incumbent in that election -- a governor by the name of Don Siegleman, who was weighed down by seemingly politically-motivated leaks that federal prosecutors were looking into corruption charges -- by a mere 3,000 votes.
To be sure, while McCain may have protected Riley from the scrutiny of his investigation, Reed himself was not spared. As detailed in the 373-page investigation, Reed was asked to organize grassroots efforts for the Choctaws starting in 1999. The tribe was fighting a bill that had passed Alabama's House of Representatives authorizing dog tracks in the state to install video poker and other casino-style games.
The work would continue for years and the price for the Choctaws was steep. As the report detailed: "In 2001, the Choctaw paid money into American International Center ("AIC"), which Abramoff described as a vehicle for passing money through to Reed. By the Committee's accounting, the Tribe paid AIC $1,485,656 in 2001, and $1,170,000 in 2002."
Around 2001, Michael Scanlon, a former aide to Majority Leader Tom Delay and Riley, was brought on board to coordinate efforts and money with Reed. According to a September 2006 article in The Birmingham News, the group's focus on the 2002 Alabama elections was intense.
"Gambling was a major issue that year in Alabama and nationally. Then-Gov. Don Siegelman was campaigning, again, on bringing a lottery to Alabama. The Alabama Legislature was considering proposals to operate video gambling machines at the state's dog tracks. The Poarch Creek Indians were expanding their gaming operations in Alabama. And Congress was debating ways to crack down on Internet gambling."
Riley was the group's preferred governor. In 2002, Scanlon gave $100,000 to his former boss' campaign. And in December 2002, Abramoff sent an email to Scanlon explaining that in exchange for their support, the Choctaws "definitely want Riley to shut down the Poarch Creek operation... including his announcing that anyone caught gambling there can't qualify for a state contract or something like that."
This was the email McCain knew about and kept out of his report.
A spokesman for Riley explained for an earlier Huffington Post story that the governor had "consistently [opposed gambling] before he decided to run... and [as such] anyone who would suggest his long-standing opposition to gambling is tied to anything other than personal conviction would be mistaken." And, indeed, in the late 1990s Riley had signed a fundraising letter criticizing the building of a casino within the state, though that too was another Abramoff objective. "We need your help today," the letter read, "to prevent the Poarch Creek Indians from building casinos in Alabama."
But implications that Abramoff was coordinating efforts with Riley were certainly significant. And when McCain investigated the matter some four years later his decision to exclude Riley's name -- in addition to other elected officials -- struck the nerve of those hoping for something more complete and comprehensive. That the Senator is now benefiting from the individuals he once exposed (he has, additionally, received Riley's support) serves only as a further irritant.
"We already knew Reed was a hypocrite -- claiming to be anti-gambling while working on behalf of tribal casinos -- so it shouldn't be such a surprise that he is willing to hold a fundraiser for the man he blames for his loss in the Georgia lieutenant governor's race," said Melanie Sloan, executive director of CREW. "More surprising is that "straight talker" John McCain -- after campaigning on his role in bringing down Abramoff -- would suddenly cozy up to a man integrally involved in the Abramoff scandal. Maybe Reed and McCain are not so different after all."

Calling all HuffPost superfans!
Sign up for membership to become a founding member and help shape HuffPost's next chapter