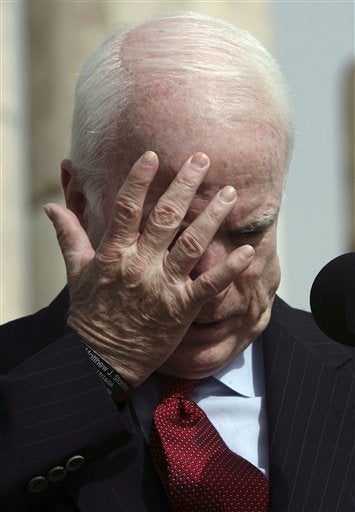 Sen. John McCain is taking this week to travel the Middle East (as well as stop of in London for a fundraiser). Today in Jordan, he falsely claimed that the predominantly Sunni terrorist organization Al-Qaida was receiving training from predominantly Shia Iran:
Speaking to reporters in Amman, the Jordanian capital, McCain said he and two Senate colleagues traveling with him continue to be concerned about Iranian operatives "taking al-Qaeda into Iran, training them and sending them back."

Pressed to elaborate, McCain said it was "common knowledge and has been reported in the media that al-Qaeda is going back into Iran and receiving training and are coming back into Iraq from Iran, that's well known. And it's unfortunate." A few moments later, Sen. Joseph Lieberman, standing just behind McCain, stepped forward and whispered in the presidential candidate's ear. McCain then said: "I'm sorry, the Iranians are training extremists, not al-Qaeda."
UPDATE: McCain made these statements yesterday on Hugh Hewitt's radio show:
As you know, there are Al Qaeda operatives that are taken back into Iran, given training as leaders, and they're moving back into Iraq.
UPDATE: The McCain campaign has offered a statement acknowledging the mistake, and saying Democrats are making mountains out of molehills:
"In a press conference today, John McCain misspoke and immediately corrected himself by stating that Iran is in fact supporting radical Islamic extremists in Iraq, not Al Qaeda -- as the transcript shows. Democrats have launched political attacks today because they know the American people have deep concerns about their candidates' judgment and readiness to lead as commander in chief."
The statement does not address his mistake from yesterday.
UPDATE: The DNC Communications Director Karen Finney released this statement:
"After eight years of the Bush Administration's incompetence in Iraq, McCain's comments don't give the American people a reason to believe that he can be trusted to offer a clear way forward. Not only is Senator McCain wrong on Iraq once again, but he showed he either doesn't understand the challenges facing Iraq and the region or is willing to ignore the facts on the ground."
Popular in the Community