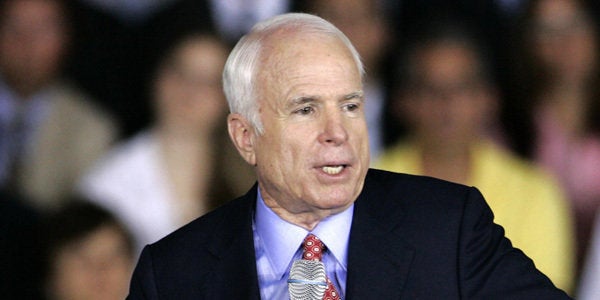 "The Supreme Court yesterday rendered a decision which I think is one of the worst decisions in the history of this country," McCain said.
The statement met with great approval by voters at the candidate's town hall meeting:
The crowd of more than 1,000 supporters, packed into a gym at Burlington County College, exploded into applause at McCain's comments.

The presumptive GOP nominee then read from Chief Justice John Roberts' dissent, and predicted the courts would now be "flooded" with habeas corpus lawsuits.
The harsh rebuke is a sudden shift from McCain's position yesterday, when he first learned of the decision:
It obviously concerns me . . . but it is a decision the Supreme Court has made. Now we need to move forward. As you know, I always favored closing of Guantanamo Bay and I still think that we ought to do that.
Popular in the Community