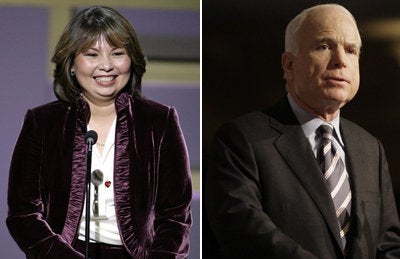 For the third straight day, Sen. John McCain's presidential campaign has raised a ruckus over comments suggesting that his military service may not, in and of itself, qualify the Senator to be commander-in-chief.
On Tuesday, the campaign hosted a conference call with reporters during which chief surrogate Sen. Lindsey Graham said that McCain was "the best-qualified person to be commander-in-chief" since a previous military-political figure: Dwight Eisenhower.
"He has walked in the shoes of those in uniform. He understands their language. He has grown up in a military family," said the South Carolina Republican, "and quite frankly his military service is extraordinary."
Raising the specter of past military service in the context of a presidential campaign can, however, be a sensitive proposition. For starters there are some purists who still hold to the George Marshall school of thought that armed forces and politics should never blend. More pointedly, McCain himself has downplayed the role that military backgrounds play in election seasons. In February 2003, the Arizona Republican said "Absolutely not," when asked whether "military service inherently makes somebody better equipped to be commander-in-chief."
"Harry Truman was in the artillery in World War I, which was magnificent," he continued. "Ronald Reagan did most of his active duty in the studio lots in California. It might be a nice thing, but I absolutely don't believe that it's necessary."
A year later, McCain cast his ballot for George W. Bush, a national guard member, over fellow Vietnam veteran John Kerry.
But a more telling example may have come more recently, when McCain found himself campaigning against one of the few Iraq War veterans who was running for office. In 2006, the Senator appeared at a late-stage but crucial fundraiser for Illinois Rep. Pete Roskam, who was being challenged by Democrat Tammy Duckworth, a veteran who had lost both her legs in Iraq. The nail-biter campaign for the open seat, which was won by Roskam with 51 percent of the vote, was marked by heated rhetoric over service and war. Roskam, who won the endorsement of the organization Veterans of Foreign Wars, accused Duckworth of wanting to cut-and-run from Iraq. McCain held his fundraiser shortly thereafter.
Now, two years later, military service is once again at the forefront of an election. And while McCain did not raise the issue himself (he can thank Gen. Wesley Clark for that), and his campaign is stressing that his POW status does not mean he is uniquely qualified for office, the Senator has not been shy in highlighting his Vietnam resume -- so much so that on Monday evening, a fellow veteran from that war, Sen. Jim Webb, urged McCain to "calm down" on his synthesis of war service and politics.
Historians say there is no precedent to help determine how much an impact this will have on the general election. In the wake of the Civil War, nearly all presidential and congressional aspirants highlighted their role in the fighting. After WWI, however, virtually none of the presidents -- save Harry Truman, who ascended to the role after FDR's death -- had veteran status to tout. Indeed, Adlai Stevenson actively highlighted his civilian status compared to Eisenhower's military pedigree, while John F. Kennedy made his time in WWII a symbolic rallying point for his campaign. Vietnam changed the dynamics, casting opponents of the war against supporters (even if both had served). And because Obama is the product of a subsequent era, it could very well make McCain's service a moot point.
"I think it is less a debate over service and more a larger debate over generational approaches to policies in general," said Dr. Jay M. Parker, a professor at Georgetown University, senior fellow at Center for Study of the Presidency and an informal Obama adviser. "When you look at how service shapes a generation, that has an effect on the way you view all political issues. And I think that is true of those of any given generation, whether they served in the military, or in the case of those coming out of the 60s, coming out of the civil rights conflicts. What were the dynamics that shaped them? I don't think you can pinpoint this as a race as someone who served in the military versus someone who didn't because the generational dynamics are so different."
Popular in the Community