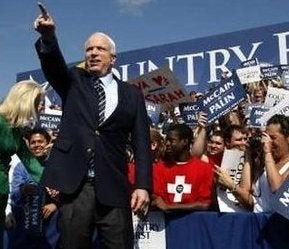 In late July, when it was first reported that Barack Obama was planning a transition team for the possibility that he would be elected to the White House, the McCain campaign criticized him for exhibiting a presumptuousness unbecoming of a presidential candidate.
"Before they've even crossed the 50-yard line, the Obama campaign is already dancing in the end zone with a new White House transition team," said spokesman Brian Rogers. "The American people are more concerned with Barack Obama's poor judgment and readiness to lead than his inaugural ball."
Well, the campaign may no longer be on its "50-yard line," but it is certainly quite far from its conclusion. And late Thursday night, Time Magazine reported that the McCain campaign, too, had taken significant steps to plan a move to the White House. Moreover, the man they had chosen to lead the transition was William E. Timmons, Sr., "a prominent Washington lobbyist who has worked for every Republican president since Richard Nixon."
By tapping Timmons, McCain has turned to one of Washington's steadiest and most senior inside players to guide him in the event of a victory -- but also to someone who would represent the antithesis of the kind of outside-of-Washington change he has recently been promising. One Republican familiar with the process said the decision to involve Timmons could become a political liability for the campaign's reformist image, especially in the wake of the controversies over the lobbying backgrounds of other McCain staffers, including campaign manager Rick Davis. "It's one more blind spot for Rick Davis and John McCain," the person said.
Clearly, there is the potential that in appointing Timmons -- the campaign refused to comment on the matter --- McCain could muddy his recently embraced outsider message. But, of equal interest, is the fact that the McCain campaign is undertaking the very task for which they once chastised Obama.
Of course, even back in July, McCain had begun making inquiries about a White House transition. This is what properly prepared candidates do. Now by joining Obama in finding a person to spearhead that effort (Obama turned to former White House Chief of Staff John Podesta) the McCain campaign proved that its initial complaints were entirely campaign motivated. Not that there was much doubt.
Support HuffPost
The Stakes Have Never Been Higher
Popular in the Community