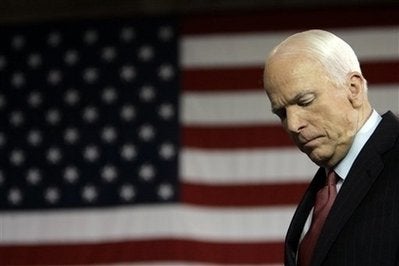 Speaking to reporters about the situation in Georgia, Sen. John McCain denounced the aggressive posture of Russia by claiming that:"in the 21st century nations don't invade other nations."
It was the type of foreign policy rhetorical blunder that has regularly plagued the McCain campaign and could have diplomatic ripples as well. Certainly the comment was meant in innocence. But for those predisposed to the notion that the U.S. is an increasingly arrogant international actor, the suggestion by a presidential candidate that, in this day and age, countries don't invade one another -- when the U.S. is occupying two foreign nations -- does little to alleviate that negative perception.
There is another, less controversial undertone to McCain's remark. Since the Georgia-Russia hostilities have commenced, parallels have been drawn to U.S. intervention in Iraq. The two scenarios are highly different in all intents and purposes, both due to regional significance and the longstanding territorial disputes. But some still would dispute the idea, as McCain seemed to imply, that America's involvement in Iraq is any less an invasion than Russia's involvement in Georgia.
Later in his press conference, McCain was asked to address how the Georgian crisis -- which has ceded to a tenuous ceasefire -- was amplified on the campaign trail. The presumptive Republican nominee demurred from attempts to get him to engage with Barack Obama.
"This isn't a time for partisanship and sniping between campaigns," he said. "This is about hundreds of thousand of individuals whose lives are being taken... Maybe later on in the campaign let's have a back and forth about whose comments and statements... but now lets devote all our efforts to resolving a situation that is fraught with tragedy."
A subsequent questioner asked McCain whether this non-partisan window applied to Sen. Joseph Lieberman as well, who, at a townhall on Tuesday, suggested that Barack Obama had not always "put his country first." McCain's answer was classically evasive.
"Let me respond by just saying that I think that whatever we think at the moment that we can all reserve that for a future time. And I think that judgments will be made about how we handled this situation and approached the situation in Iraq and how much experience knowledge and background means in selecting who should be the next commander in chief, all I can say is there will be plenty of time for that and we can move forward. "

Popular in the Community