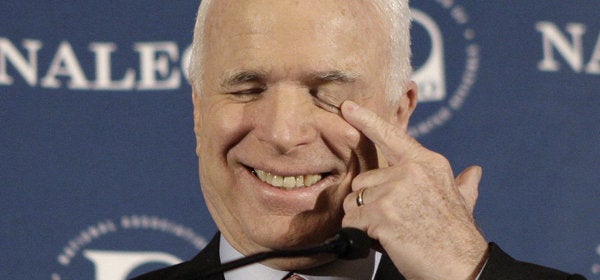 Citing what he called the "overwhelmingly positive response to my jokes about killing Iranians," presumptive G.O.P. presidential nominee John McCain issued today a list of his favorite humorous remarks on the subject.
Titled "John McCain's Top Ten Funniest Ways to Kill Iranians," the list was published on his official campaign website at www.JohnMcCain.com/funnywaystokilliranians.
Speaking in a video on the site, a smiling Sen. McCain says, "My friends, in these trying times in which we live, there's one thing all Americans can agree on: killing Iranians is hilarious."
Sen. McCain, who first joked about killing Iranians months ago by singing "bomb, bomb, bomb, bomb, bomb Iran" to the tune of the Beach Boys' hit "Barbara Ann" and who yesterday commented that the U.S. could kill Iranians with cigarettes, was apparently "just warming up," one aide said today.
"Anyone who has enjoyed Sen. McCain's side-splitting jokes about killing Iranians will be blown away by this list," the aide said. "He's in fine form."
Sen. McCain's list of funny ways to kill Iranians ranges from the caustic -- "Send Iran lead-based hookah pipes from China" -- to the whimsical -- "Tell Christie Brinkley that Iran has been cheating on her."
The list ends with what Sen. McCain dubs the number one funniest way to kill Iranians: "Vote for me."
Andy Borowitz is a comedian and writer whose work appears in The New Yorker and The New York Times, and at his award-winning humor site, BorowitzReport.com. He hosts "Countdown to the Election, with special guests Joy Behar (The View) and Jeffrey Toobin (CNN, bestselling author of "The Nine") at the 92nd Street Y in NYC on October 22 at 8 PM. Student tickets half-price. For tickets go to 92y.org.
Popular in the Community