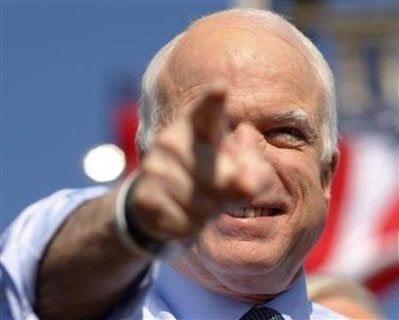 Sen. John McCain made one of most memorable political appearances in SNL history last night. In his opening sketch, and in the "Weekend Update" segment, in the lingo of the comedy world, he "killed."
He humanized himself and demonstrated that he and his campaign could have a terrific sense of humor when the chip were down. He appeared incredibly relaxed, wonderfully self-effacing and winning.
Take nothing away from this guy, he did it all tonight and did it well.
He did his campaign some good tonight, after Gov. Palin's appearance two weeks ago that I panned at the time. I thought that one was ill-advised but McCain's came off well.
Sen. Obama, I think, made the right decision in not going on the program as had been rumored.
He is the front-runner, after all, and needs to make no mistakes in the final days.
Meanwhile, about 40 minutes before SNL aired not long ago in the New York tri-state area and in the San Francisco Bay Area, a powerful attack ad on Obama ran inside a repeat airing of the previous week's SNL episode hosted by Mad Men star John Hamm.
The ad resurrected Rev. Jeremiah Wright with incendiary speech excerpts, a photo of Wright and Obama standing very close to each other, and a woman's narration culminating in words saying that Barack Obama was "Too Radical and Too Risky" for America.
It was a strong ad, one that I had predicted to my media and elections classes would air somewhat earlier in the campaign but also when Obama had less opportunity to respond.
Obama is probably most wise to avoid responding unless that line of attack, and other attacks, get worse in these last two days. He doesn't want to draw new attention to the threat that Wright first posed back so many months ago.
Sen. Obama, in my opinion, has been a little cocky in some appearances earlier this week, mocking how John McCain would attack him, and that is just unwise when his main goal right now should be to attract more of the undecideds and mobilize his own get-out-the-vote effort, which he is doing superbly well.
But undecideds are undecided for a reason in every election. They don't really have a dog in the fight and thus see any signs of conceit or cockiness in either candidate as unattractive. They are still taking the measure of both men. I always say that people unconsciously vote for the candidate they most want to watch on television the next four years and tonight, John McCain looked like he could be a lot of fun.
Fun is now what the country needs now, of course, and perhaps I'm wrong and McCain hurt himself tonight. He may well have.
The next 48 hours will be intense and critical, and so much has been looking so good for Sen. Obama that my political instincts tell me to watch out. When things look too good to believe in politics, they often are just that - -too good to be believed. They might be true, but I wouldn't bet the family farm quite yet.
We could have recounts in our future and nightmarish legal challenges.
Of course, if Obama wins with 40 or more electoral votes than are needed, and seems to be pulling away at the end, continuing to ride his tsunami of momentum, then recounts and legal challenges are just in our worst imaginings.
Calling all HuffPost superfans!
Sign up for membership to become a founding member and help shape HuffPost's next chapter