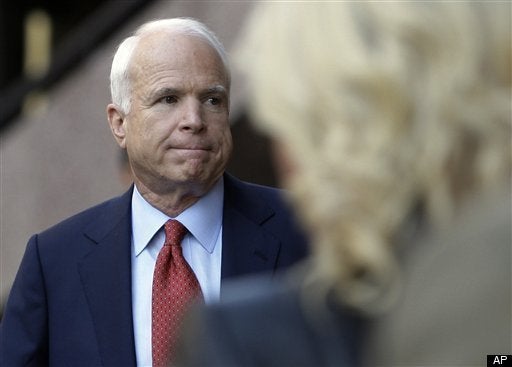 A debate over the high-profile immigration and gay-rights amendments to the defense authorization bill boiled over on the Senate floor on Monday with Republicans accusing Democrats of trying to pass extraneous measures under the cover of national security.
In back-to-back statements, Sens. John McCain (R-Ariz.) and Lindsey Graham (R-S.C.) accused Democratic leadership of playing politics with the legislative process, not simply by prohibiting the amendments Republicans can offer to the DoD authorization but by tacking on the DREAM Act (providing paths to citizenship for illegal immigrants) and repeal of Don't Ask Don't Tell (which prohibits openly gay members from serving in the military).
"[I]t makes no sense to me, Senator McCain, for us to bring the defense authorization bill to the floor of the Senate at any time where you and I cannot offer an amendment about how you try a terrorist," said Graham, according to an unofficial transcript of the exchange. "I can't offer those amendments. We're going to be offering on the "DREAM" Act. The "DREAM" Act is a hot topic in the immigration world but not hot among our troops. I've been to Afghanistan and Iraq numerous times and I haven't had one soldier ask me about the DREAM Act. Are they going to get paid more? Do they have the tools to win the war? I think this is politics at its worst. I stand here saying our party has probably abused rules in the past but not like this."
Prior to Graham, McCain had insisted that in year's past, Republicans "didn't allow" extraneous items to be tacked on to such bills. By day's end, other Republicans had joined the chorus. Senator Olympia Snowe (R-ME), a critical vote on the forthcoming effort to filibuster the legislation, expressed her displeasure that the amendment process had been so tilted in favor of Democratic priorities.
But for all the griping about what amendments have or haven't been added to the DoD Authorization, the fact remains that these appropriations measures have long been vehicles for unrelated legislation. McCain himself would know that. As Sen. Carl Levin (D-Mich) noted right after he spoke on the floor, the Senate had previously considered hate crimes legislation in 2001, 2005, and 2008. McCain himself "offered a non-relevant amendment to the defense authorization bill," Levin added, proposing "to acquire campaign finance disclosure by the so-called 527 organizations as an amendment to the National Defense Authorization."
Meanwhile, as a Democratic source following the debate on the Hill noted, back in 2005, then Senate Majority Leader Bill Frist (R-Tenn.) and House Speaker Dennis Hastert (R-Ill.) managed to attach a provision granting immunity for companies manufacturing vaccines to protect against biological agents to an FY2006 DoD appropriations bill.
The relevance of that measure to the Department of Defense -- as with DADT repeal -- is debatable. But the Democratic source claims that the procedural maneuvering by Frist and Hastert was far worse than anything done by Senate Majority Leader Harry Reid (D-Nev.)
"It was inserted by Frist and Hastert after the conference was over and without a vote by the conferees," the source said. "[And] it was added to an appropriations bill, which is even worse than an authorization bill because there isn't supposed to be any authorizing language in an appropriations bill."