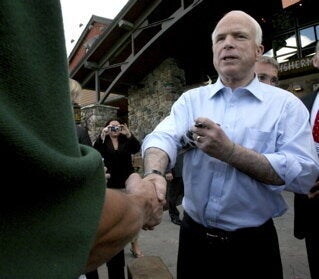 Only two presidential polls were released over the week-end, but they are both important in what is becoming a presidential roller-coaster, much like the 2004 election (on this day four years ago, Electoral-Vote.com had John Kerry leading George Bush 327 to 211 EVs) -- quite a contrast with the continuing good news for Dems from down-the-ballot races:
In Ohio (polling history), Obama loses the lead he had these past two months in PPP polls (including 8% in July). In the August edition, he is tied with McCain at 45% due to a poor performance among registered Democrats -- only 75%, particularly among whites and females (we know who they supported in the primary…). This means that Obama is unable to exploit the swing in partisan ID (from +5 GOP in 2004 to +7 Dems in this poll).
In Colorado (polling history), a poll conducted for CBS/Rocky Mountain News by Public Opinion Strategies (a Republican firm) but designed by a Democratic firm finds McCain leading 44% to 41% - within the margin of error.
Only PPP found that big a lead for Obama in July, and most surveys from the state have found a narrow race; so the tie is not particularly traumatizing for Democrats. Yet, the survey's internals are more troubling. More than two months have passed since he wrapped up his party's nomination, and he is very much at the same point he was on June 3rd: The massive shifts in partisan identification should give him an advantage, but that would require him to solidify his support among the Democratic base. Getting 75% of Ohio Democrats will not be enough come November 4th.
It has long been clear that Barack Obama would not select Hillary Clinton as his nominee unless he had to do so to unify the party. Not all polls are showing such weak numbers for Obama among self-identified Democrats, but if the campaign's internals are showing similar results, did they dismiss Clinton too early? The Obama campaign still has work to do to appeal to the white, blue-collar electorate that shunned the Illinois Senator in the primaries.
As for Colorado, it is no longer a surprise to see McCain leading in a poll -- and this is one of the most unfortunate polling developments for the Obama campaign. McCain had never led in a Colorado poll until July 24th's Quinnipiac survey; then came Rasmussen, and now this CBS poll. All surveys found McCain's margin within the margin of error - but so were Obama's leads. The only reason for Democrats to feel confident based on Colorado polling was that Obama's narrow edge was consistent; now 3 of the past 5 polls (including 2 of the 3 released in August) have McCain ahead. Colorado is more of a toss-up than ever.
Meanwhile, in the one down-the-ballot poll we got over the week-end:
In the Tennessee Senate race, competing internal polls by the campaigns of Republican Lamar Alexander and Democrat Bob Tuke find very little to compete about, with both finding the GOP incumbent crushing his opponent: 60% to 30% and 54% to 32%.
This race made some noise a while back -- but that was because of speculation that Lamar Alexander might choose to retire. Sure, Bob Tuke is more credible a candidate than in many other races, but we are unlikely to hear much about this race (or Tennessee in general) in the months ahead.
Calling all HuffPost superfans!
Sign up for membership to become a founding member and help shape HuffPost's next chapter