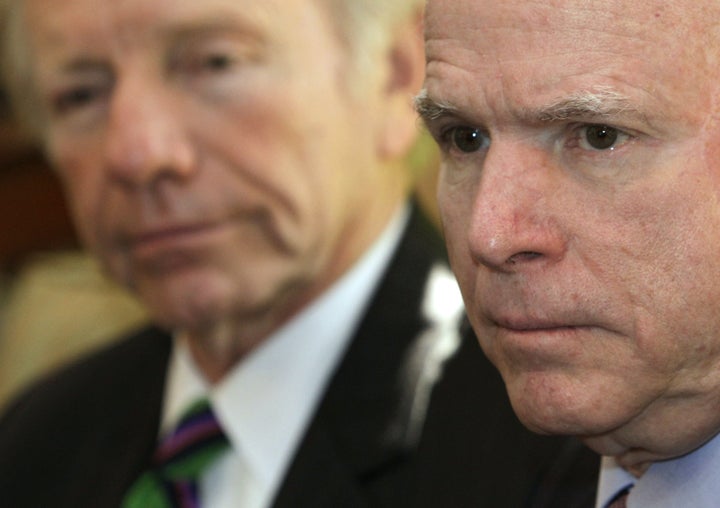 Senators John McCain (R-Ariz.) and Joe Lieberman (I-Conn.) defended the United States' intervention in Libya, telling "Fox News Sunday" they support the effort to protect civilians from their leader, Muammar Gadaffi.
The Obama administration's decision to intervene in Libya has raised questions about how the U.S. will respond to trouble brewing in other countries in the region -- and whether it was appropriate for America to step in at all.
Defense Secretary Robert Gates said on Sunday that, although Libya is not a vital interest to the United States, the potential to destabilize the region and the risk posed to Libya's civilian population motivated the U.S. to act. McCain agreed that the administration made the right decision by intervening in the country after Gadaffi threatened a widespread massacre of his own people.
"The fact is that Gadaffi said he'd go house to house and kill people, and thankfully at the 11th hour with the quote-unquote 'no fly zone,' we prevented that," McCain said. "This is a moment of historic proportions, and this will give us a moment of opportunity to help with the spread of democracy."
McCain said dealing with other countries in the Middle East would be difficult, particularly in countries with a tribal power structure such as Yemen.
Secretary of State Hillary Clinton said on ABC's "This Week" the situation in each country is different, and the administration's actions on Libya should not be taken to mean they would intervene elsewhere.
But Lieberman argued that U.S. intervention in Libya set a standard for going into other countries if the same circumstances occur.
"If [Syrian President Bashar] Assad does what Gadaffi was doing, which was threatening to go house to house and kill people who don't agree with him, then there's a precedent that the world has set, and the right one," Lieberman said. "In doing so, we're being consistent with our American values."
Popular in the Community