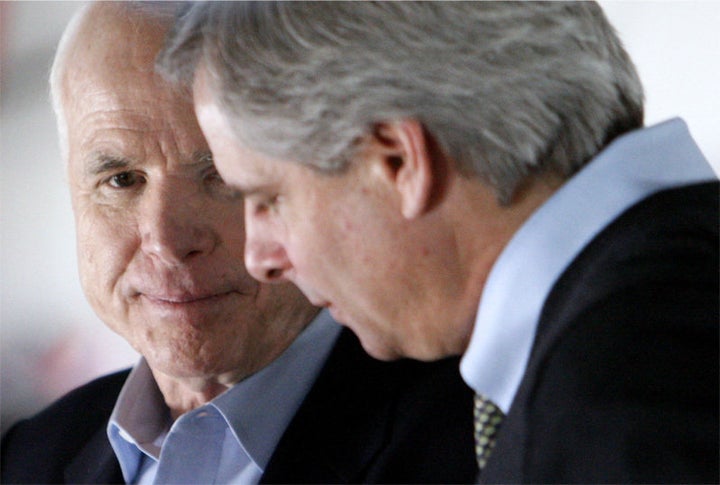 The lobbying firm of McCain campaign manager Rick Davis acted in direct opposition to American foreign interests, which prompted a warning to McCain's Senate office from the United States government, according to a recent New York Times article.
Much has been reported about Rick Davis, top McCain adviser and lobbyist whose company, Davis Manafort, made its fortune in part by accepting jobs that didn't require employees to register as lobbyists. Davis has been in particular hot water for his company's work with pro-Russian Ukranian political candidates; Davis arranged for one of Putin's allies to meet with McCain during the time.
However, the New York Times has managed to take that already embarrassing story and make it even worse:
Mr. McCain may have first become aware of Davis Manafort's activities in Ukraine as far back as 2005. At that time, a staff member at the National Security Council called Mr. McCain's Senate office to complain that Mr. Davis's lobbying firm was undercutting American foreign policy in Ukraine, said a person with direct knowledge of the phone call who spoke on condition of anonymity.

A campaign spokesman, when asked whether such a call had occurred, referred a reporter to Mr. McCain's office. The spokesman there, Robert Fischer, did not respond to repeated inquiries.

Such a call might mean that Mr. McCain has been long aware of Mr. Davis's foreign clients. Mr. Davis took a leave from his firm at the end of 2006.
This isn't the only time when Davis' business interests have appeared counter to those of the United States: Davis' Ukranian contacts shared several business ties with Iran.
McCain suffered from a perception problem last month when the extent of his lobbying connection caused him campaign to fire several key staffers, as well as institute a new conflict-of-interest policy. The McCain camp has said that Davis is unaffected by the policy, as its implementation is not retroactive. Davis is no longer registered as a lobbyist.
UPDATE: Sen. Claire McCaskill appeared on CNN to discuss her efforts alongside Sen. Schumer to cut short foreign lobbying, a plan that seems to have a political as well as policy interest:
Popular in the Community