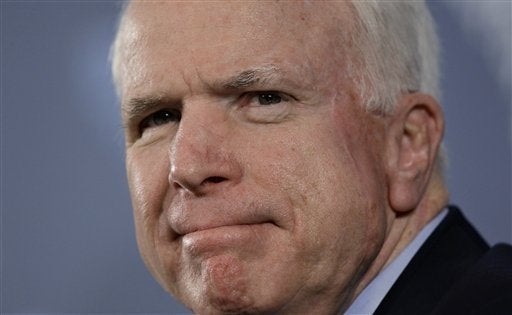 WASHINGTON -- John McCain's Senate campaign is directly coordinating with the candidacy of Arizona Republican House challenger Ruth McClung in apparent violation of the letter and spirit of the McCain-Feingold campaign-finance reform law.
McCain's unusual involvement in the House race has much to do with the interests of uranium and copper mining companies, which have been lobbying hard to mine in the state. McClung's opponent, Democratic incumbent Raul Grijalva, chairman of a key Natural Resources House Subcommittee, has stood in the way.
McCain's violation stems from his decision to invest more than $90,000 of his Senate campaign's money to boost McClung's candidacy. When Democrats complained, McCain produced documents showing he had filed with the Federal Election Commission to declare that his campaign is making "independent expenditures" on behalf of the McClung campaign. But in order to remain independent in the eye of the law, the campaigns can't coordinate.
An email sent by the McClung campaign on Monday, however, provides evidence that the two camps are working directly together. It asks volunteers to come to the campaign's headquarters, which it shares with McCain, to make phone calls on behalf of the campaign. "Questions - email or call Mike Sistak who is McCain's staff person at the HQ," reads the message to supporters, which was obtained by HuffPost. It also provides Sistak's phone number and email address @friendsofjohnmccain.com. (Read the email here.)
Andrew Herman, a top election law attorney with the Brand Law Group, calls the flagrant coordination "absurd" and "ridiculous."
"It's certainly not within the letter and spirit of the law that bears the name of Mr. McCain," he said.
A McCain campaign spokesman said that no laws were broken because the campaign didn't coordinate on the specific media buy in question. "You've cracked the code -- a revelation so incredible it's sure to make headlines nationwide: McClung volunteers and McCain volunteers will make phone calls at the same place for a few nights this week to ensure that the Republican ticket defeats boycott promoter Raul Grijalva and his liberal understudy Rodney Glassman. We thank the Huffington Post for getting this phone bank a bit more publicity than normal," said Brian Rogers.
"'Coordination' has a very specific legal meaning under the FEC regulations, and involves sharing campaign strategy and plans -- not just appearing on the same stage or asking volunteers to meet at the same building, as is the case here -- but that is the nonsense the Democrats are selling. The fact is that the FEC put in place specific coordination rules and the McCain campaign is carefully following them," Rogers added.
But, said Herman, whose firm often represents Democrats, such a distinction is beside the point. "How do you slice and dice that? How do you wall off the part of your brain that is coexisting with these people?" said Herman. In general, political operations deliberately house their IE side in a separate building from the side that can coordinate so as to be very clear the two aren't working together.
With most operations, "[t]here is at the very least the effort and the appearance made to separate the two. This is just blatant disregard for even the most general formality. It's ridiculous," said Herman. "It begs any kind of credibility that he could be claiming any kind of independence. It's absurd. It takes it to its absurd limit."
In the wake of the Citizens United decision that gutted campaign-finance rules, the FEC has yet to rewrite regulations regarding spending by IEs. What candidates can do for each other without violating contribution-limit regulations will be new terrain for the FEC when they get around to writing the new regulations. McCain's activities in Arizona will likely be instructive.
The McCain camp is confident an FEC investigation would find no wrongdoing. Grijalva believes the opposite but said that whatever sanctions are leveled will come too late. "It needs to be exposed, but unfortunately that questioning, legal and otherwise, will occur after the damage is done," said Grijalva in an interview. "It does provide her with the McCain infrastructure that she was lacking all this time. I don't think she's making any calls on strategy; I don't think she's making any calls on targeting; I don't think she's making any of those calls. She's relying on McCain staff that feel they can ignore their Democratic opponent and concentrate fully on stepping on me."
The McClung campaign rejects the notion that they don't have their own mind. "We're running our own campaign. It's really a pretty baseless charge," said McClung spokesman Sam Stone. But he doesn't deny the ground-level coordination, noting that they pay for half the cost -- which, said Herman, is beside the point. "We're sharing this office so there's always people from both teams here... We pay for half of everything that goes out from this office," said Stone. "We lease half the space and the right to use half of everything, basically... We split the cost on everything, the phone calls that go out. McCain-McClung, we're splitting the cost on everything."
Grijalva says that McCain is waging the campaign against him because he has opposed copper and uranium mining favored by McCain backers.
"I think it's those two issues: the uranium industry up in the Grand Canyon and Resolution Copper, which is a foreign company and not even in my district. We see those as being the two pivotal points that he's mad about," said Grijalva.
Grijalva has held hearings on the mining efforts and successfully lobbied the White House, which had considered naming Grijalva Interior Secretary, to temporarily block the digging.
"We want a full environmental analysis," said Grijalva, adding that the company "refuse[s] to tell us how much the copper is worth."
"Is it a fair market trade? I think we're entitled to ask those questions, but for some reason the senator doesn't want those questions asked," he added. "Ruth has become a convenient surrogate for him. We understand that. We don't think it makes it a fair fight, because he gets to pull the strings and sit in the back. This battle that we're in is more about McCain that it is about McClung."
Popular in the Community