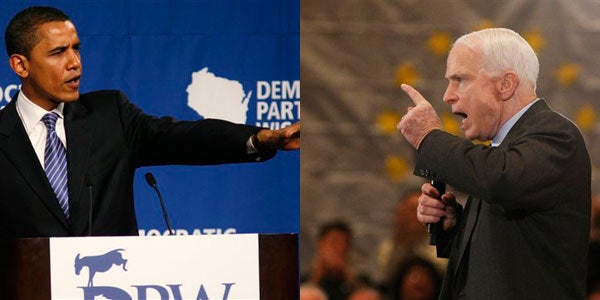 "Sen. John McCain of Arizona, close to clinching the GOP nomination, called Sen. Barack Obama 'naive' today and...blasted him for advocating a bombing of Al Qaeda hide-outs in Pakistan," the Los Angeles Times reports.
"The best idea is not to broadcast what you're going to do, that's naive," said McCain, who also questioned the very notion of "bombing Pakistan without their permission." ...

In a conference call with reporters to respond, Obama foreign policy advisor Susan Rice said that McCain was "misrepresenting and distorting Barack Obama's positions" and argued that the Democrat "never suggested bombing an ally."

"McCain promises more war in Iraq," she said. "Obama will end the war in Iraq and focus on terrorists in Afghanistan."
TNR: McCain Is Lying: Jonathan Chait writes for The New Republic:
Last night John McCain accused Barack Obama of, among other things, having "once suggested bombing our ally, Pakistan." This is a lie. ... There is nothing in Obama's speech, or any other Obama speech, about "bombing" Pakistan. Both implicitly and explicitly, he called for small, Special Operations-type incursions. ...

Meanwhile, you know who is coming closer to "bombing an ally"? The Bush administration, whose determined prosecution of the war on terror McCain continues to tout. The Washington Post reported -- as it happens, the same day McCain made his smear -- that the CIA launched Hellfire missiles at an al Qaeda operative in Pakistan. As the Post noted, "Having requested the Pakistani government's official permission for such strikes on previous occasions, only to be put off or turned down, this time the U.S. spy agency did not seek approval."

So, to review: Obama did not call for bombing Pakistan, ever. Meanwhile the Bush administration is undertaking air attacks against targets in Pakistan. Is this wildly irresponsible? I suppose you could make that case. But McCain isn't interested in an argument about the merits of striking al Qaeda against the costs of undermining Pervez Musharraf. He's just interested in lying about what Obama said in order to portray him as a foreign policy novice.
Matthew Yglesias has much more from the Obama campaign call with Susan Rice:
[O]n experience there's a three-pronged attack. First, Obama does have experience, with Rice citing the fact that he authored "crucial legislation to secure the United States from the threat of loose nuclear materials" and serves on committees and subcommittees dealing with foreign relations, veterans affairs, and homeland security. Second, this means that Obama has actually "acquired more traditional washington foreign policy experience" than most presidents including Ronald Reagan, Bill Clinton, and Jimmy Carter (Carter in fact served on a nuclear sub and I'm told this gave him a better understanding of nuclear issues than presidents before or after).

Third, there's more to life than being a prisoner of DC conventional wisdom -- "McCain, like Donald Rumsfeld and Dick Cheney may have years of Washington experience" but they've all made "flawed judgments and as a consequence we're less safe." In a crucial point, Rice observed (emphasis added) that a McCain administration would be "very much a continuation and intensification of the failed Bush policy, remaining in Iraq indefinitely not investing adequately in Afghanistan."
Popular in the Community