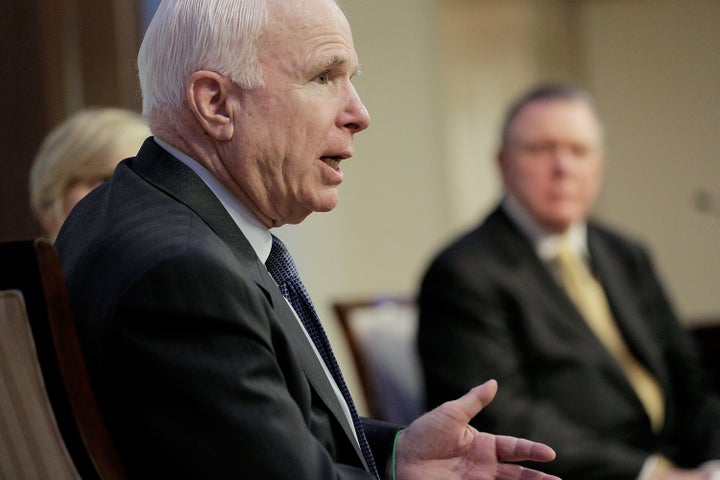 Sen. John McCain (R-Ariz.) reflected on his days of service in the Vietnam War in a radio interview on Tuesday, Veterans Day. McCain, a former naval aviator and prisoner of war, voiced concern that the U.S. may be heading down a similar path in Iraq and Syria as it did in Vietnam.
President Barack Obama's "incrementalism" in the fight against the Islamic State group "reminds me of another war we lost, my friend, and that was the Vietnam War," McCain said in an appearance on the Kilmeade & Friends show on Fox News Radio.
The senator, who will serve as the chair of the Senate Armed Services Committee once Republicans take control of the Senate in January, was referring to Obama's recently announced plan to send 1,500 additional U.S. troops to Iraq.
Obama has asked Congress for $5.6 billion to fund the new military mission. If Congress approves the request during its upcoming lame-duck session, the troops would add to the approximately 1,400 military advisers that are already in Iraq.
"First a handful, then 1,500, now another 1,500," McCain said, criticizing Obama's gradualist approach. (The senator used 1,500 for the number of personnel currently in Iraq. The Associated Press last week estimated the number to be 1,400.)
McCain compared Obama to Robert McNamara, who slowly ramped up U.S. involvement in Vietnam while he served as the Secretary of Defense to Presidents John F. Kennedy and Lyndon B. Johnson. McNamara, McCain said, was behind a "gradual escalation" in Vietnam that resembles the current U.S. approach to the Middle East.
White House officials have said that the fight against the Islamic State may continue for years, leading some observers to worry that the fight will be prolonged and ultimately unsuccessful. But the administration has persistently denied that the campaign will involve U.S. troops engaging in ground combat, even though military advisors have been sent in to perform non-combat roles.
On Tuesday, McCain also repeated several criticisms he has previously leveled against Obama's Islamic State strategy. The senator questioned whether the strategy was thoroughly planned out and argued that the extremist militant group would not have become so powerful had it not been for Obama's decision to withdraw U.S. troops from Iraq at the end of 2011.
"We had it stabilized and then President Obama decided we had to pull everybody out and, my friend, that was the beginning of this debacle we're facing right now," McCain said.
Obama officials have tried to counter that critique by pointing out that the Iraqis did not agree to give U.S. soldiers the protections they would need if they were to stay in the country. In recent weeks, the administration has also noted that even after the U.S. withdrawal, it continued to pressure the Iraqi government to deal with al Qaeda in Iraq, a predecessor to the Islamic State.
McCain suggested that the prospects for a U.S. victory looked bleak.
"They are winning right now," the senator said, referring to the Islamic State militants. "Look at Kobani. They are able to hold off American airpower and whoever else is fighting now for weeks. And everybody's saying it's a great success that they haven't taken Kobani. Really?"
McCain released a new book on Tuesday, called Thirteen Soldiers, which he co-wrote with speechwriter Mark Salter. The book features the experiences of soldiers from each of what the authors define as the U.S.'s thirteen major military conflicts.
Calling all HuffPost superfans!
Sign up for membership to become a founding member and help shape HuffPost's next chapter
BEFORE YOU GO
PHOTO GALLERY
John McCain