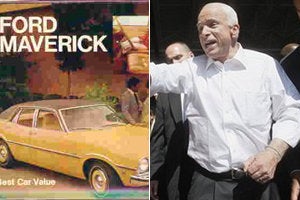 Newsweek has a story up comparing the number of cars owned by the presidential candidates. It's not even close. And certainly, it doesn't provide the type of man-of-the-people image that John McCain's handlers want to present in the current economic crisis.
As the magazine reports: "When you have seven homes, that's a lot of garages to fill. After the fuss over the number of residences owned by the two presidential nominees, NEWSWEEK looked into the candidates' cars. And based on public vehicle-registration records, here's the score. John and Cindy McCain: 13. Barack and Michelle Obama: one."
Here's a slideshow of the vehicles in the McCain family's garage (pay special attention to the bubbly little 2000 NEV Gem electric vehicles -- gotta love those buggers).
As for Obama, he and Michelle own a 2008 Ford Escape hybrid.

Popular in the Community