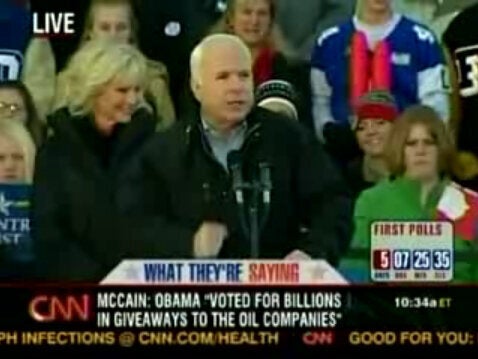 John McCain and Sarah Palin crisscrossed Ohio over the weekend, appearing at multiple rallies that drew surprisingly small crowds -- especially taking into account the GOP candidates brought with them the star power of 9/11 hero Rudy Giuliani, movie idol Arnold Schwarzenegger, and country music headliner Gretchen Wilson.
On Friday, former New York mayor Giuliani stumped for McCain at a school gymnasium in Hanoverton, a reliably Republican rural community in northeastern Ohio. Speaking to several hundred people, America's 9/11 spokesman told the small crowd that Barack Obama's policies would be "disastrous."
In Columbus the same day, McCain tried to leverage the political wattage of Schwarzenegger, governor of California, to reach out to Ohio independents. But together the two men barely filled half of the same hockey arena that George W. Bush packed with 20,000 people on the eve of his re-election four years ago.
On Sunday morning, vice-presidential candidate Sarah Palin spoke in Canton following a warm-up performance by Grammy winner Gretchen Wilson, a popular singer who has had five singles in the Top Ten on the Billboard country charts, including her #1 hit Redneck Woman. Despite the free admission, the crowd at Canton Memorial Fieldhouse in northeastern Ohio was estimated at just 3,000.
On Sunday afternoon, Palin and Wilson teamed up again, this time in southeastern Ohio. The vice-presidential candidate promised the crowd of 5,000 at Marietta College that her ticket "will not let Obama kill the coal industry. Instead, we'll make clean coal a reality."
That evening Palin wore a buckeye necklace threaded through a green jacket when she spoke to a raucous crowd of 3,500 inside an airport hangar at Rickenbacker International Airport in Columbus. By comparison, Barack Obama spoke to a crowd estimated at 60,000 people in Columbus earlier that day. His supporters crowded the west lawn outside the Ohio statehouse, spilling over into the blocked-off streets around the capitol building.
Later on Sunday, Obama spoke to a crowd estimated at 80,000 in Cleveland, where long lines of supporters hoping to see the candidate -- and superstar singer/songwriter Bruce Springsteen -- snaked for blocks around Malls A, B and C in the city's downtown.
On Sunday evening, the Democratic presidential candidate spoke to about 20,000 supporters under the lights in Nippert Stadium at the University of Cincinnati in southwestern Ohio. This was Obama's final stop in the Buckeye State before Election Day.
In north central Ohio, Democratic vice-presidential candidate Joe Biden drew crowds of about 2,000 in Marion and Bowling Green over the weekend. Unpretentious Biden was working as a solo act with no celebrities in tow.
These rallies -- and others like those in Florida today -- demonstrate a significant enthusiasm gap when it comes to the two tickets. Ohio is a must-win for McCain, but it is Obama supporters who are voting convincingly with their feet.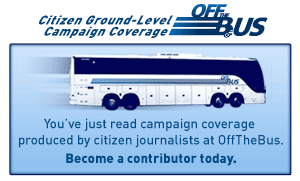 Related
Popular in the Community