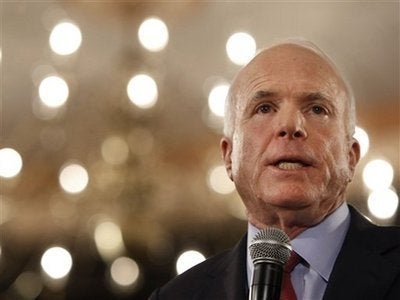 John McCain and his Republican allies are "readying a newly aggressive assault on Sen. Barack Obama's character, believing that to win in November they must shift the conversation back to questions about the Democrat's judgment, honesty and personal associations," several top Republicans told the Washington Post.
With just a month to go until Election Day, McCain's team has decided that its emphasis on the senator's biography as a war hero, experienced lawmaker and straight-talking maverick is insufficient to close a growing gap with Obama. The Arizonan's campaign is also eager to move the conversation away from the economy, an issue that strongly favors Obama and has helped him to a lead in many recent polls.

"We're going to get a little tougher," a senior Republican operative said, indicating that a fresh batch of television ads is coming. "We've got to question this guy's associations. Very soon. There's no question that we have to change the subject here," said the operative, who was not authorized to discuss strategy and spoke on the condition of anonymity. [...]

Moments after the House of Representatives approved a bailout package for Wall Street on Friday afternoon, the McCain campaign released a television ad that challenges Obama's honesty and asks, "Who is Barack Obama?" The ad alleges that "Senator Obama voted 94 times for higher taxes. Ninety-four times. He's not truthful on taxes." The charge that Obama voted 94 times for higher taxes has been called misleading by independent fact-checkers, who have noted that the majority of those votes were on nonbinding budget resolutions.

A senior campaign official called the ad "just the beginning" of commercials that will "strike the new tone" in the campaign's final days. The official said the "aggressive tone" will center on the question of "whether this guy is ready to be president."
The Obama campaign painted the Post story as evidence that the McCain campaign is trying to disregard the country's serious economic challenges in favor of personal attacks on Obama:
"On a day after we learned that America lost three-quarters of a million jobs this year and a week after our financial system teetered on the brink of collapse, John McCain and his campaign have announced that they want to 'turn the page' on the economic crisis facing working families and spend the last month of this election launching dishonest, dishonorable character attacks against Barack Obama. We understand that it's not easy for John McCain to defend the worst economic record of our lifetime, but he will have to explain to the people struggling to pay their bills and stay in their homes why he would rather spend his time tearing down Barack Obama than laying out a plan to build up our economy," said Obama-Biden Spokesman Bill Burton.
Obama's team also released this web ad hammering McCain over the new job loss numbers:
Popular in the Community