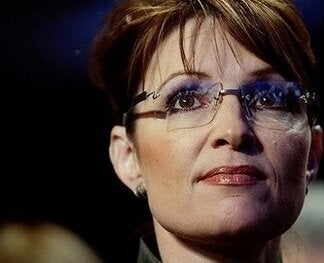 There has been plenty of commentary about what Governor Sarah Palin's hotness factor brings to the McCain-Palin ticket, but thus far the RNC has kept the dialogue on a professional level. Until it was discovered yesterday that the McCain campaign owns voteforthemilf.com. The URL was purchased via the McCain campaign's Go Daddy account. Furthermore, McCain's camp is not denying ownership at this point. Even more telling is that upon entering the URL, the site immediately redirects you to a personal video message from Gov. Palin on McCain's official website. A video posted to YouTube shows the redirect in case the campaign changes it, as seems likely.
GovGap.com highlights some interesting facts about this story including the fact that the McCain camp registered the URL within 36 hours of choosing Palin as a running mate. Since the story originally broke, there have been numerous updates posted to the site both tracking the electronic ownership trail -- it does trace back to McCain -- and proposing the theory that it was just the work of an underling commanded to buy up any domain name that might be used for or against the campaign. But voteforthemilf.com?? Cough, cough.
But the real question here besides legitimacy is will it work? We know that sex sells and sells well. Think of everything you know about Sarah Palin. Now think of everything you know about Joe Biden. Even regular readers of this site, most likely more politically astute than your average American, will recognize the media discrepancy. By christening Palin with the patently offensive and yet cyber-cool MILF tag, McCain makes his strategy clear. He's the brains, and she's the eye candy. And judging by recent poll numbers, his strategy might be working.
Quick, someone impregnate Biden!
Popular in the Community