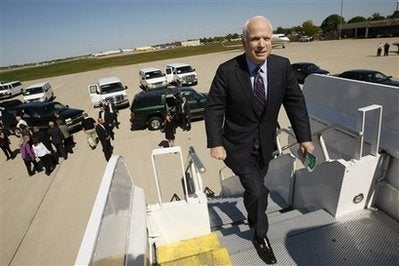 The Politico reports that John McCain's electoral map is getting smaller:
John McCain is pulling out of Michigan, according to two Republicans, a stunning move a month away from Election Day that indicates the difficulty Republicans are having in finding blue states to put in play.

McCain will go off TV in Michigan, stop dropping mail there and send most of his staff to more competitive states, including Wisconsin, Ohio and Florida. Wisconsin went for Kerry in 2004, Ohio and Florida for Bush.
A McCain adviser confirmed the news but noted that the Republican National Committee's independent expenditure arm is still running ads there, and that McCain will keep most of his staff in-state. McCain officials and Michigan Republican Party officials declined to comment. Weirdly, McCain's staff scheduled a surrogate conference call with Mitt Romney for this afternoon, perhaps assuming that their shift in advertising would not be noticed or reported. The McCain move was disclosed one day after auto manufacturers based in the state reported record revenue declines. Previously, McCain has argued that Obama's intention to raise taxes on the rich would further deepen Michigan's worst-in-the-nation recession.

The move away from Michigan reflects the abandonment of any pretense that McCain can spend freely to expand the map for Republicans this year, and it's a sign that the campaign recognizes how the past two weeks have erased nearly all of McCain's gains since August. Instead, McCain's playing defense in states like Florida, Virginia and North Carolina, although his advisers do not consider the latter state as close as public polling suggests.
The AP says that the RNC ads up in Michigan are not expected to continue either.
McCain's campaign discussed the move today, saying that the candidate now needs to win Pennsylvania, Wisconsin or Minnesota.
"We felt like being able to play in Michigan up to this point was an offensive move," a McCain aide said. "As we close down into Election Day, our map is going to become more targeted."
Recent polls have shown Obama opening up significant leads in every battleground state, a stunning shift.
Popular in the Community