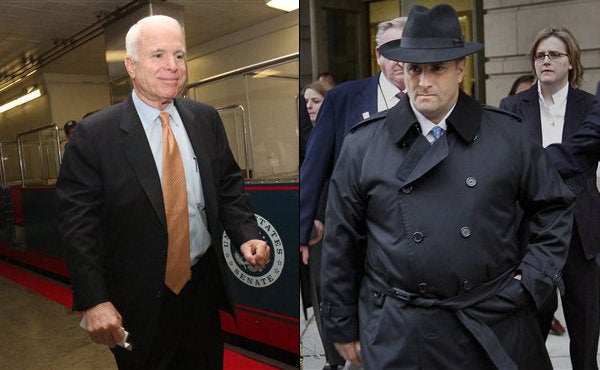 On the stump, Sen. John McCain has touted his work tackling the excesses of the lobbying industry to bolster his reputation as a "maverick" reformer.
"Ask Jack Abramoff if I'm an insider in Washington," McCain often contends. "You'd probably have to go during visiting hours in the prison, and he'll tell you and his lobbyist cronies of the change I made there."
But how much change did McCain actually effect? And is he all that removed from Washington's special interests?
A review of campaign finance filings shows that the Arizona Republican has accepted more than $100,000 in donations from employees of Greenberg Traurig, the very firm where Abramoff once reigned.
Those donations include several thousand dollars from registered lobbyists who represent, or have represented, businesses such as NewsCorp, Rupert Murdoch's media empire; Spi Spirits, a Cyprus based company that has fought with the Russian government for the rights to the Stolichnaya vodka brand name; El Paso Corp, a major energy company; General Motors; and the Essential Worker Immigration Coalition, a group of businesses and trade associations "concerned" about the shortage of lesser skilled and unskilled labor.
There is nothing illegal about these contributions. But campaign watchdog groups and McCain's opponents view them as more than just a reflection of political irony. McCain, they argue, has on occasion been far more bark than bite when it comes to taking on lobbying interests.
Indeed, this past week, the Democratic National Committee put together a memo challenging McCain's assertion that he was a corruption hound while investigating Abramoff. The document and some government watchdog groups note that while McCain put pressure on Jack Abramoff and several prominent Republicans, he also went out of his way during the Indian Affairs Committee hearing to spare his congressional colleagues.
"Although Sen. McCain has long bragged of his role in the Abramoff investigation, he let Tom DeLay and the other members of Congress who were doing Abramoff's bidding completely off the hook. The sole exception was Rep. Bob Ney, who is now serving time in prison," said Melanie Sloan, Executive Director of Citizens for Responsibility and Ethics In Washington. "Sen. McCain knew what his colleagues were up to, he chose to take the easier path and give them a free pass."
Neither McCain's office nor the Indian Affairs Committee returned requests for comment. In the past, McCain has claimed that it was not his responsibility to "involve ourselves in the ethics process [of Senators]." A source close to the investigation, who asked to speak anonymously so as to maintain his political neutrality, defended McCain's work as proper and effective. So did Paul Miller, the director of the American League of Lobbyists at the time of the Abramoff hearings.
"I think if you look at the report that Senator McCain and his committee, it was a bipartisan 16-0 vote to approve that report," Miller told the Huffington Post. "Yes, Bob Ney was the focus in some of these hearings, because he was one with the most evidence [against him]. But Senator McCain has not shied from taking anyone on, on this issue."
At well over 350 pages, the report was thorough, exploring layers of corruption that had allowed Indian tribes to part with tens of millions of dollars in search of political favors. But it did not include the names of prominent U.S. Senators with Abramoff ties, such as Conrad Burns and David Vitter, or for that matter Bush strategist Karl Rove, who accepted gifts from and met with Abramoff clients.
And while the report pushed for greater transparency and accountability, towards the end, McCain and the other authors seemingly put the onus for change not on Congress itself, but on the tribes that Abramoff bilked.
"Although the Committee does not believe that additional federal legislation is required to address Abramoff and Scanlon's misconduct," the report reads, "it does recommend that tribes consider adopting their own laws to help prevent a similar tragedy... The Committee strongly encourages those tribes that have not adopted such [good-government] laws and regulations to enact law and regulations that embrace the principles contained in the following recommendations. The Committee notes, however, that it is not recommending that Congress enact legislation mandating tribes to enact laws dealing with these subjects..."
Popular in the Community