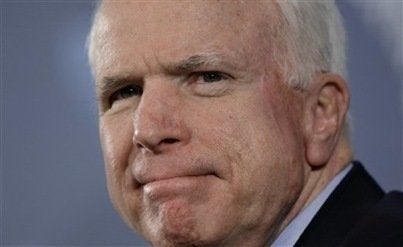 PHOENIX, AZ -- Talk-radio host, Tea Partier, and former House member J.D. Hayworth (R-AZ) hasn't even filed to run against Sen. John McCain (R-AZ) in the Republican senate primary, but both sides have already gone on the offensive. Even while still in the hypothetical stage, this race has already escalated into push polls, name-calling, and legal complaint filings.
McCain's former chief of staff and former Arizona Attorney General, Grant Woods, filed a complaint with the Federal Elections Commission (FEC) alleging that Hayworth is illegally using his radio-talk show to promote his potential candidacy for McCain's senate seat. Woods, who says Hayworth has utilized the equivalent of more than half a million dollars of Clear Channel time to promote and "test the waters" of his candidacy, filed the complaint after McCain staffers complained to him several times about Hayworth's broadcasts. He declared, "You can't use the public airwaves...to explore your candidacy for public office ad nauseam, and I stress the nausea."
Woods wrote in his complaint,
During the past few weeks, Mr. Hayworth has repeatedly used almost his entire allotted airtime to promote his candidacy. And Mr. Hayworth has stated his intention to continue to use this corporate subsidy to campaign during the coming months.
Hayworth immediately responded on Twitter, "Paging Mr Grant Woods... you left your brain in the lobby! Woods tries to gag a non-declared non-candidate citizen - ME! 1st Amendment? BAH!"
Hayworth called Woods an "ambulance chaser" who cashed in on a tobacco settlement lawsuit that was sold as a public health measure. "You're even lower than some bacterial forms of algae, and that's saying something," Hayworth said, before chiding Woods and the McCain camp for "leaking" a GOP push poll to the Republic that showed the Senate maverick enjoyed a 20-point lead over J.D.
Last week, though, a Tarrance Group push poll, commissioned by the Foundation for a Secure and Prosperous America (which was previously linked to McCain supporters), offered a different outlook: a 20 point lead for McCain. After "questions" presented information like "[Hayworth] never returned any campaign contributions that he received from Jack Ambramoff, a convicted felon," McCain's lead widened to 33 points.
Predictions whether Hayworth will run are divided. Sen. Jon Kyl (R-AZ) and the Arizona Republic both have predicted that Hayworth will use the possibility of running to bolster his radio show ratings but will ultimately not run. Others, including CQ and Swing State Project are taking the possibility more seriously, especially after Hayworth was spotted by CQ in DC last week. He met with beltway supporters who could bolster a primary challenge against an old powerhouse like McCain. Hayworth characterized the meetings "very encouraging."
While in DC, Hayworth alluded to McCain's advanced age while talking with reporters about his possible candidacy, saying, "I think we all respect John as a historical figure." But when pressed on whether McCain's age is an issue, Hayworth backed off, "Let me stress, it's not about age. I'm not on that kick. It's not age, it's time in office, and I think there's just a feeling that people want to see a U.S. senator not only from Arizona, but for Arizona."
Earlier this month, Hayworth raised more than $110,000 at a fundraiser headlined by Sheriff Joe Arpaio. The money went toward paying lawyer fees accrued when Hayworth was implicated in the Ambramoff scandal. The Arizona Republic Editorial Board opined Thursday that Hayworth is unlikely to run for office, "Hayworth is shaking down his listeners with all those 'taking on McCain' fantasies." Jason Rose, a local public relations rep who hosted the fundraiser, said comments made by Hayworth indicated that Hayworth will likely run.
The day after a Rasmussen poll showed Hayworth and McCain in a statistical tie for a potential primary, Hayworth said on his talk radio show that he was in the "due diligence" phase. Last week, while in DC, he maintained he is still in the due diligence phase. Hayworth has indicated that he will likely wait until early 2010 to make a decision whether to run.
Political observers are also noticing policy shifts in the McCain camp that many attribute to Hayworth's possibly primary challenge. On Fox News Sunday, host Chris Wallace described McCain as becoming "more combative and conservative" on issues such as global warming and asked, "Does the perception that you have moved to the right this year have anything to do with the fact that you might face a possible primary challenge from former conservative congressman J.D. Hayworth next year?"
McCain did not deny his move to the right, saying, "I have always taken every race that I'm in seriously, no matter who's running against me. But the fact is that I have gotten back in the arena. I have fought for the things that I believe in."
Popular in the Community