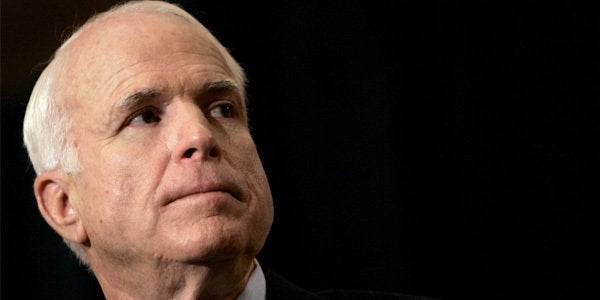 Aides to Sen. John McCain sought on Wednesday to clear up their boss' position on Iraqi Prime Minister Nuri al-Maliki's recent insistence that a timetable for the withdrawal of U.S. troops be included in any security agreement between the two countries.
"John McCain has always been clear that American forces operate in Iraq only with the consent of that country's democratically elected government," Michael Goldfarb, a McCain spokesman, told the Huffington Post. "The Senator speaks frequently with Iraq's leaders and they have made clear that they share his belief that any timeline for withdrawal must be dictated by the facts on the ground. He met with the foreign minister and President separately within the last month...He met with Maliki on his last trip to Iraq sometime in late March."
Goldfarb's remarks represent a more pronounced effort to bring McCain's position on Iraq in line with Maliki's. McCain has forsworn deadlines for troop withdrawal -- insisting that it be tied to conditions on the ground -- and he did not, initially, express support the prime minister's position.
"Prime Minister Maliki is the leader of a country and I'm confident he will act as the President and the Foreign Minister both told me in the last several days," said the presumptive Republican nominee. "It will be directly related to the situation on the ground -- just as they have always said. And since we are succeeding, I am convinced, as I have said before, we will withdraw with honor, not according to a set timetable."
On Wednesday, aides to the Senator continued to argue that Maliki's statement was public posturing designed to improve his hand during the negotiations of a status of forces agreement.
McCain's allies also were forced to make concessions today in rationalizing how the U.S. could keep troops in Iraq against that country's wishes. Peter Hegseth, the head of the non-partisan Vets For Freedom (an advocacy group that supports McCain's Iraq War plan), acknowledged during a conference on Wednesday that the next president would ultimately have to listen to Maliki's directives.
"I think the Iraqi prime minister's prerogative is obviously important," he said. "They are a sovereign country. Their wishes, I think, are going to be granted by our government. And we've created an opportunity for them to make these kinds of statements and I think that is a good thing."
Critics of the war have jumped on Maliki's remark as evidence that criticism of Obama's Iraq policy (which calls for a responsible drawdown of U.S. troops) is entirely unfounded. They noted that Iraq's National Security Adviser Mowaffaq al-Rubaie restated his government's desire to see a decrease in U.S. presence, on Tuesday. And pointed to a 2004 remark given by John McCain in front of the Council of Foreign Relations, in which the Senator said the U.S. "would have to leave," if the Iraqi government asked it to.

Support HuffPost
The Stakes Have Never Been Higher
Popular in the Community