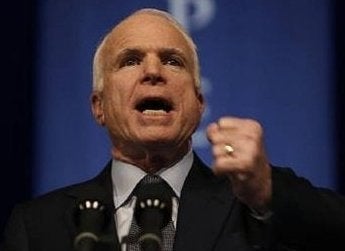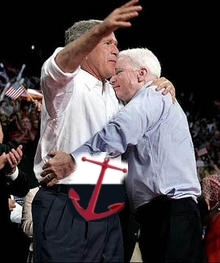 The time has come for John McCain to be what George W. Bush said he was: "The Decider."
(In fact, of course, Mr. Bush has instead been the Divider.)
It's over. Polls make it clear that Mr. McCain is going to lose. Indeed, this election is shaping up as the biggest Democratic sweep since 1964.
Here is what McCain the Decider must decide: Should I continue to be a divider or return to being a patriot by becoming a unifier?
The time has come, Mr. McCain: Call the dogs off. Denounce the outrageous statements by Rep. Michele Bachmann (R, MN), Rep. Robin Hayes (R, NC), Sen. Mel Martinez (R, FL). They are not going to win you the election. All they will do is increase hatred and bitterness and harm our nation.
Stop all the dangerous, divisive bulls**t about "terrorists," "socialism," Un-Americans," "communism," and the rest.
Stop sh**ing on your opponent, get off the pot, preserve what's left of your reputation for decency and patriotism, and help to prevent further unnecessary and pernicious division of your country.
If you really believe in "Country First," Mr. McCain, stop putting Country Last and do all you and your supporters can to stop the venom that will only make it more difficult for President Obama to lead the United States forward.
Mr. Obama's task is to replace the Disunited States of America with a re-established United States of America. You can choose to facilitate that effort or you can stand in its way.
The only positive thing that is still within your reach is not victory in the election; it is salvaging your honor and helping your country.
Do it. Now. COUNTRY FIRST.
Historian Robert S. McElvaine is Elizabeth Chisholm Professor of Arts & Letters at Millsaps College. His latest book is Grand Theft Jesus: The Hijacking of Religion in America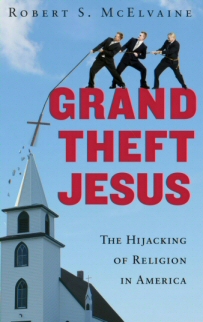 (Crown). He is currently at work on a book on America in the 1960s, Oh, Freedom! (Norton).
Popular in the Community