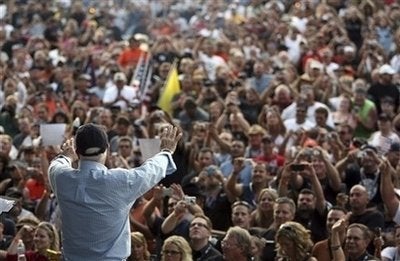 Yesterday evening John McCain took part in the Sturgis Rally 2008 at Buffalo Chip in South Dakota, an annual tribute to veterans. The candidate was so enthused, he told attendees, that he encouraged his wife to participate in the festivities: "I told her with a little luck, she could be the only woman ever to serve as both the first lady and Miss Buffalo Chip."
As the Huffington Post reported on Sunday, the Miss Buffalo Chip contest is more than a little risque -- not to mention bedeviled by violence:
ESPN's Jim Caple described the as "essentially a topless beauty pageant. And occasionally bottomless, too."

"During a drenching rain Wednesday night, the contest broke up into smaller groups and one woman wound up dancing naked on a bar top. Her boyfriend/husband saw her and angrily dragged her away as she struggled to put her pants back on and muttered something about how, "It's only this one week a year."

How sweet. Sadly, the pageant also sees its share of domestic abuse, which even the event's organizers admit to Caple is a major problem.
Here are some videos from last year's contest (warning: probably NSFW or young readers).
The pickle-licking contest:
Popular in the Community