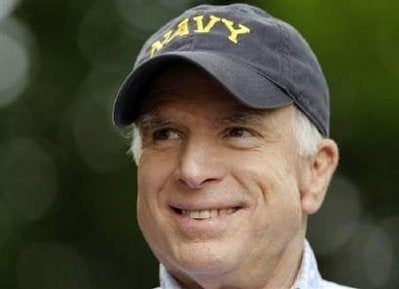 The Washington Post does a long profile of John McCain, talking to the candidate and the aide who co-wrote all his books. They talk literature:
He has read Edward Gibbon's six-volume "History of the Decline and Fall of the Roman Empire" -- twice. But his favorite book is Ernest Hemingway's "For Whom the Bell Tolls," whose protagonist, Robert Jordan, has been McCain's hero since he was 13.

In the novel, Jordan, an American volunteer on the anti-fascist side of the Spanish Civil War, finds love, then chooses death in service to a hopeless cause he believes in. In last week's interview, conducted in the leather-covered first-class seats of his campaign plane, McCain was asked if he, like Jordan, is a "romantic fatalist." McCain answered quickly and forcefully: "Yes, yes." Salter described his boss's fatalistic philosophy: "Life sucks, but it's worth doing something about anyway."
Friends discuss his temperament:
McCain's harsh self-criticism suggests the emotionalism that colleagues and friends say is typical of him. This was described recently by Gary Hart, the former senator from Colorado and a presidential candidate himself in 1984 and 1988 ...

"I think his mind is visceral," Hart said, "driven less by thought and more by feelings. This doesn't mean he's totally reactive or without logic or thought processes; it just means he's a fighter pilot. He reacts to circumstances."

A senior official in the Clinton administration who worked with McCain on Bosnia and Kosovo, where McCain defied most of his Republican colleagues to support strong U.S. action against Serbia, agreed. "In the many, many years that I've been in Washington," this former official said, insisting on anonymity to avoid upsetting McCain, "John McCain is far and away the most emotional politician I have ever met."

"McCain is all emotion," the former official continued. "People don't understand that, so they keep talking about his temperament, his temper. He reacts emotionally, therefore unpredictably."
McCain talks about his opponent:
McCain has offered little analysis of the electorate's reaction to him or the path he hopes to follow to victory in November. Although he hammers Obama in public appearances, he also has respectful words for his opponent. In the interview last week, he said, "I'm surprised that I am as close in the polls as I am right now. When you look at the fantastic campaign that Senator Obama has waged, it really is quite remarkable."
Read the whole profile here.