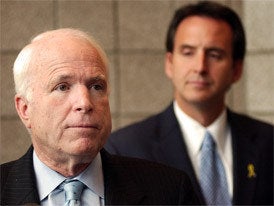 A key surrogate to John McCain and a member of the Senator's vice-presidential list, made overt overtures on Tuesday for disaffected Hillary Clinton supporters to join the Arizona Republican.
Speaking on a conference call to preempt Barack Obama's appearance in Minneapolis, Minnesota Governor Tim Pawlenty asserted that Clinton backers would find a natural affinity to McCain's experience, judgment and political leadership.
"There's going to be a competition for many of Hillary Clinton's former supporters," said the Republican Governor. "I think many of those voters are going to consider supporting McCain. They see in him many of the same characteristics they saw in Hillary Clinton."
The remarks underscore a nascent but growing effort on the part of McCain to pry away angered or disillusioned Democrats. On Monday, the Senator and aides offered sympathy to Clinton for the unfair treatment that he said she has received throughout the primary. He also praised the New York Democrat for inspiring "generations of American women to believe that they can reach the highest office in this nation."
Pawlenty's conference call -- which started off with massive technical difficulties -- was not solely dedicated to opening wounds within the Democratic Party. The governor went through a litany of attacks on Obama, saying he was inexperienced, too liberal and -- more to the point -- something of an empty suit.
"Being able to read form a teleprompter is not a prerequisite for being president of the United States," he said of the Illinois Democrat.
Pressed by reporters for specifics, Pawlenty came up a bit lame. He could not specify a specific policy proposal put forth by Obama to justify his claim that the Democratic frontrunner deserved his National Journal ranking as the Senate's most liberal member; in the end, resorting to a gun control policy that Obama helped push in the Illinois State Senate.
Asked specifically if he thinks Obama's lack of experience in world affairs made him a liability for the Oval Office and, consequently, a risk for the country should he end up president, Pawlenty refused to directly address the question.
"I think it is beyond debate that experience is helpful and leads to better wisdom and insight," he said. "It is certainly not the only quality... If you look at Sen. McCain's insight early on in the Bush administration... he alone, or almost alone, on the Republican side, was a voice of saying we need to do this differently."
Over the past week, McCain and his aides have repeatedly hit Obama for not having visited Iraq in more than two years. However, as The Huffington Post reported on Monday, the Senator has surrounded himself with a range of individuals who have visited the war zone as infrequently as Obama. The list includes former New York City Mayor Rudy Giuliani, who despite having never been to Iraq, McCain touted as his "strong right arm" in combating Islamic extremism. Gov. Charlie Christ of Florida has never gone, and Mitt Romney, another VP option, has been once.
Asked whether trips likes these should serve as a barometer for McCain's VP choice, Pawlenty, who has been to Iraq three times, replied:
"I think the more times you have been to Iraq the better," he said, "how to understand the situation on the ground and how it has evolved over time."
Popular in the Community