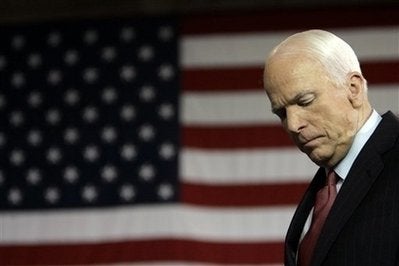 Crutchley's political leanings are pointed out near the beginning of the piece:
"Crutchley, a liberal Republican with a tight white beard, admits that he felt anxious during Manhunt's first years, before his and Basile's initial investment of $800,000 bore fruit. Now, seated at his desk and surrounded by giant photographs of body builders' glutes, Crutchley says the company brings in at least $2.4 million per month -- almost $30 million a year -- not counting ad revenues, and prospects for growth are strong. Manhunt's success measures the extent to which online cruising has changed gay urban social life. Is it changing gay politics too?"
Crutchley's right-leaning ways have been reported on before, in the Huffington Post, which reported on a contribution he made to the McCain campaign. Last week, Crutchley defended his contribution in the comments section of an April 2007 interview (which he apparently monitors) with Online Personals Watch:
And it appears John McCain has accepted the maximum individual campaign donation from the owner of America's largest gay sex hook-up website.
Continue reading the article here...
Popular in the Community