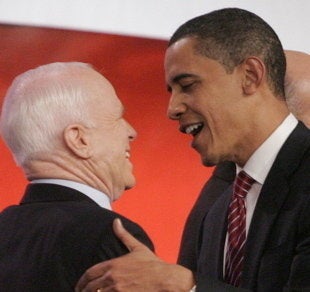 Late last week, Republican Presidential candidate John McCain surprised some observers by endorsing an education platform that had been developed by two staunch Democrats -- the Reverend Al Sharpton and New York City Schools Chancellor Joel Klein.
This is by far McCain's most savvy campaign move of the past few days. It makes him look active on education issues and puts Obama in a little bit of an unexpected jam during the weeks leading up to the convention.
The endorsement by McCain won praise from Sharpton and Klein -- and derision from more liberal Obama supporters like AFT president-elect Randi Weingarten. That's because Weingarten and other more traditional Democrats have their own education manifesto, emphasizing poverty reduction and health care in addition to classroom issues. The Sharpton/Klein agenda emphasizes accountability and reducing the achievement gap between rich and poor students.
McCain's announcement puts Illinois Senator Barack Obama square in the middle -- right where McCain wants him to be. Right where the two competing education agendas put him.
Now, if Obama endorses the Sharpton/Klein agenda, he will alienate union and other supporters who have signed onto one manifesto. If he endorses the more liberal agenda, he will alienate centrist supporters who have signed onto the other.
If he endorses both -- or declines to endorse either of them, he'll look wishy-washy on an issue where he has been seen to be stronger than his opponent. No, I don't think he can vote 'present.'
No matter that McCain has no real commitment to education. No matter that Obama's record is considered much better on education than McCain's. No matter that someone from Obama's campaign said six weeks ago that both agendas made a lot of sense and weren't mutually exclusive. (Only one major figure has signed onto both agendas -- Chicago schools chief Arne Duncan.)
For years now, there has been a deep internal tension between two education groups that I like to call the PovRacers and the SchoolReformers. These are the Jets and Sharks of the education world.
Led by folks such as Jonathan Kozol, the PovRacers argue that poverty and race and other societal factors must not be left out of efforts to improve public education -- and that schools shouldn't be blamed for things outside their control.
The other group, the SchoolRefs, is tightly focused on improving classroom instruction and reducing the achievement gap -- whether or not poverty is eliminated or universal health care is ever provided. They have been led led by people like Kati Haycock of the Education Trust, and Ted Kennedy and George Miller, who helped write No Child Left Behind.
Seeking to put pressure on the candidates and make their voices heard, both factions decided -- unwisely, I would argue -- to roll out dueling manifestos during the same week in June. For weeks before the rollout, they had somehow been unaware of each other as they gathered signatures of support. Once aware, they were unable or unwilling to come together and push for an agenda that suited everyone, or agree to save the debate until the convention, or step back and let their candidate have as much room as he needs to win the election.
This is why campaign people hate education. There seems to be a lack of political savvy among many education groups who see them selves as outside advocates not inside operators. And there isn't any education leader who's strong enough to wrestle the PovRacers and SchoolReformers into a cohesive unit, even if it means winning the White House. You don't see the environmentalists, or advocates for reproductive health divvying themselves up into two groups and asking people to sign their petitions at this point.
Maybe if the race had seemed tighter, the groups would have held off. Maybe if Obama hadn't pushed on merit pay and charters, the traditional groups wouldn't have felt so agitated.
The flareup won't lose Obama the election, but it certainly isn't helping him. The only upside is that it's made education more of an issue than it otherwise would have been -- at least for a little while. But not really in a good way.
Calling all HuffPost superfans!
Sign up for membership to become a founding member and help shape HuffPost's next chapter