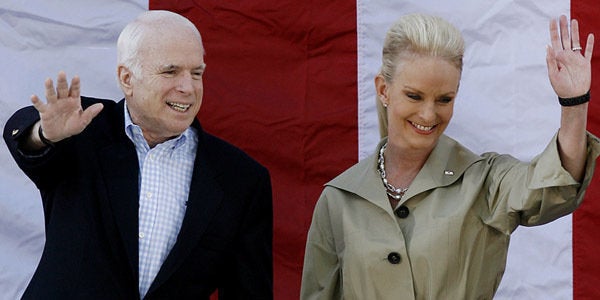 UPDATE: Howard Dean has issued the following statement:
John McCain's lack of transparency is troubling and raises questions about what he's hiding. From his willingness to skirt FEC law to releasing less information about his tax returns than any other candidate since Ronald Reagan, John McCain continues a troubling pattern of thinking the rules don't apply to him. McCain should hold himself to the same standard set by past presidential candidates, both Republican and Democrat, and the example already set by both Democratic candidates.
---
John McCain has released his tax returns for 2006 and 2007 today, his first release of such information in 25 years. However, unlike the Democratic candidates who released information for themselves and their spouses, McCain will not release information on his wife's estimated $100 million fortune.
McCain's individual return was released Friday. It shows that McCain paid $84,000 in taxes in 2007. He gave $105,000 to charity and also donated $177,000 in royalties from five of his books, including the biographical "Faith of My Fathers" and "Worth the Fighting For."

His income included his Senate salary of $161,708, a Navy pension of $58,358 and Social Security income of $23,157.
30 YEARS OF PRECEDENT
Candidates have historically released copies of their past tax returns. The Democratic National Committee points out that every candidate -- on both sides of the aisle -- dating back to Carter and Ford have released past returns.
PRIVATE LIVES
During the 2004 election, Republicans criticized Theresa Heinz Kerry for not disclosing her personal tax returns (she eventually released a copy of her 1040). RNC Chairman Ed Gillepsie claimed then:
"Throughout history, presidential candidates have disclosed income tax information prior to Election Day. We believe Americans value disclosure and transparency in campaigns. During the 2003 filing year, Sen. Kerry made a $6 million loan to his campaign based on the value of a home jointly owned with his wife."
The McCain camp has suggested that Cindy McCain's fortune has no bearing on her husband. However Cindy McCain's fortune and business connections have played a huge part in her husband's political career:
The McCains' marriage has mixed business and politics from the beginning, according to an expansive review by The Associated Press of thousands of pages of campaign, personal finance, real estate and property records nationwide. The paperwork chronicles the McCains' ascent from Arizona newlyweds to political power couple on the national stage.

As heiress to her father's stake in Hensley & Co. of Phoenix, Cindy McCain is an executive whose worth may exceed $100 million. Her beer earnings have afforded the GOP presidential nominee a wealthy lifestyle with a private jet and vacation homes at his disposal, and her connections helped him launch his political career -- even if the millions remain in her name alone. Yet the arm's-length distance between McCain and his wife's assets also has helped shield him from conflict-of-interest problems.
THINK OF THE CHILDREN
The National Review pointed out in 2004 about Heinz Kerry's tax returns:
Disclose the full form, Teresa. Privacy? Oh, come off it. How can disclosure of any part of Mrs. Kerry's personal 1040 relate to her children, all of whom are now in their thirties?
Aides say Cindy McCain will not release her tax returns to protect the privacy of her four children; details of their wealth are included in her filing.
Still waiting for similar outrage from the National Review.
Popular in the Community