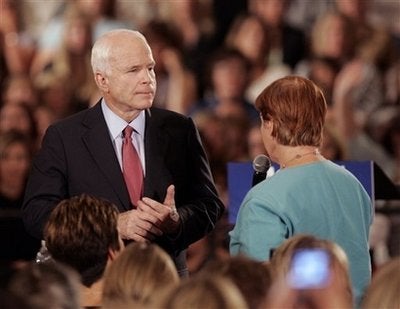 Going into tonight's vice presidential debate, the chief concern among Democrats was that Sen. Joe Biden, whether accidentally or not, would somehow deliver a line against Sarah Palin that was deemed sexist.
Could John McCain just have beaten him to the punch?
At a town hall meeting in Denver late Thursday night, McCain addressed the predominantly female crowd (it was a women's town hall) with what was meant to be a comedic aside.
"My friends, I've had hundreds of town hall meetings around this country for many, many years and I've got to say, thanks to you and to you and to you this is one of the more impactful and emotional town hall meetings I've ever had. Maybe it's because it's a women's town hall."
Certainly, with the sensitivities surrounding race and gender in this campaign, off-the-cuff remarks like this have the potential to blow up. The McCain campaign will likely portray the comment as a joke, or perhaps even complimentary. But many women will undoubtedly see it as sexist and/or patronizing.
Popular in the Community