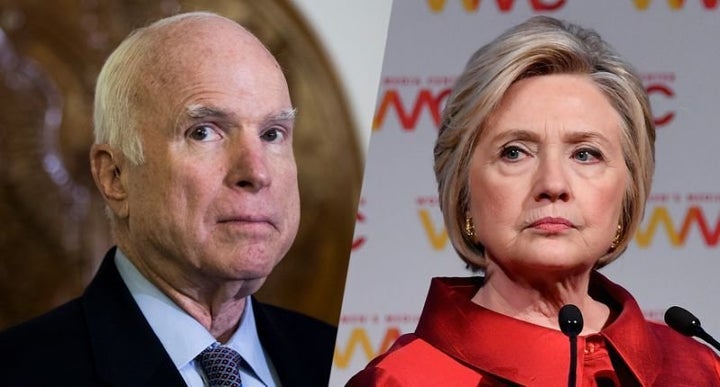 Sen. John McCain, R-Ariz., says he understands why Hillary Clinton decided to write her campaign memoir, "What Happened," which was published in September — 10 months after her brutal election loss to Donald Trump. But McCain, who suffered his own bitter defeat, to Barack Obama, as the Republican nominee in 2008, also knows that "you can't rewrite history."
"One of the almost irresistible impulses you have when you lose is to somehow justify why you lost and how you were mistreated: 'I did the right thing! I did!'" McCain told Esquire magazine for a lengthy profile published online Sunday. "The hardest thing to do is to just shut up."
In "What Happened," Clinton claims that the "attacks" Sen. Bernie Sanders, I-Vt., leveled at her during their Democratic primary battle "caused lasting damage," made it harder to "unify progressives" and paved the way for Trump's "Crooked Hillary" refrain.
"What's the f***ing point? Keep the fight up?" McCain said of Clinton's tome. "History will judge that campaign, and it's always a period of time before they do. You've got to move on. This is Hillary's problem right now: She doesn't have anything to do."
The 81-year-old former prisoner of war knows from experience. McCain's 2008 run was the subject of "Game Change," a scathing book by John Heilemann and Mark Halperin which was later turned into an HBO miniseries. McCain's campaign manager, Steve Schmidt, contributed to the book.
"Listen, my own campaign manager was part of a book that trashed me," McCain said, adding that he is working on his own memoir, which will touch on his ill-fated presidential run as well as his ongoing battle with cancer. McCain was diagnosed with glioblastoma, an aggressive form of brain cancer, in July.
"Crooked Hillary Clinton is the worst (and biggest) loser of all time," President Trump tweeted on Saturday. "She just can't stop, which is so good for the Republican Party. Hillary, get on with your life and give it another try in three years!"
It wasn't clear what exactly Trump was responding to. But Clinton recently suggested to Mother Jones that Russian government interference undermined the "legitimacy" of Trump's win.
Read more from Yahoo News:
Popular in the Community